Use this tutorial to make this easy DIY Tabletop Fire Pit. This is perfect for placing on a patio table when entertaining.

You may not have the room or the budget for a backyard fire pit, but that doesn't mean you can't enjoy the glow of a fire! In fact, you can make your own mini tabletop fire pit in just minutes and using just $3 worth of supplies from your local dollar store. The end result is the perfect little tabletop fire pit, excellent for lighting up your summer nights. Here is how you can get crafty and make your own!
DIY Tabletop Fire Pit
Supplies needed:
Medium sized flower pot
Assorted mini stones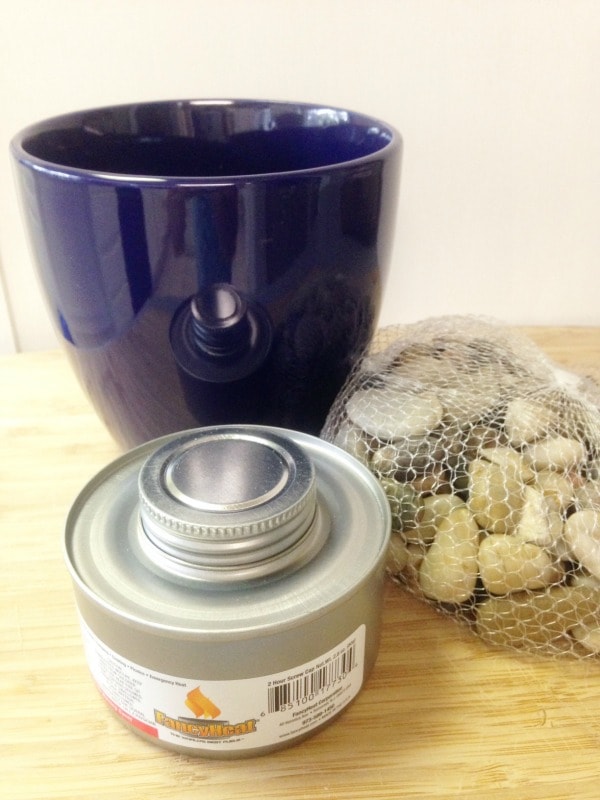 As mentioned we found everything we used here at our local dollar store. Look for a medium-sized pot that is wide enough for the chafing fuel to settle in while leaving about one inch around the sides. You also want to opt for pebble-sized rocks as they will fill the fire pit in nicely.
Directions:
1. Begin by filling the flower pot 3/4 way full with stones. In order to buy/use fewer stones, you can add a few large stones to the bottom of the pot to take up more space. Then, just add the smaller stones on top of them.

2. Next, nestle the chafing fuel into the flower pot. You want to be sure it is sitting flat and not wobbly. You can build stones up around the dish to secure it into place. As you can see, we layered them into the ridges of the chafing dish to hide it.

3. Once the chafing fuel is securely in place, you can put the flower pot on a flat surface such as a picnic table. Go ahead and remove the lid of the chafing fuel and light it up. In a few minutes, you will have a nice warm flame and some excellent ambiance!
If you wish, you can always add a decorative element to the pot itself. Feel free to add embellishments of your choice to match the theme of your party or household/patio decor.
Forget having to give your fire any firewood or maintenance. Once you have crafted it, it is ready to be used and enjoyed for hours! As you can see, it makes the perfect frugal centerpiece for all of your outdoor entertaining, or is just a great way to light up the space for yourself.

Gather your supplies and give this easy to homemade tabletop fire pit a try. It is the perfect summer DIY activity that is sure to come in handy.
More Summer Decor Ideas
Frugal Patriotic Table Decor Ideas