Elegant Patriotic Table Decor Ideas
Ah, summer. It's here! Can you hear my excitement 😉 ?
With summer comes all of the back yard fun and BBQ parties. When we decided to fix up our back yard and add furniture, we had that one purpose in mind: Create & build furniture for entertainment purposes. Last month I talked about hosting a July 4th Patriotic Frugal Table decor idea for kids.
Well, I'm back to add to that it. We have the kids table, but for the adults… let's jazz it up a bit.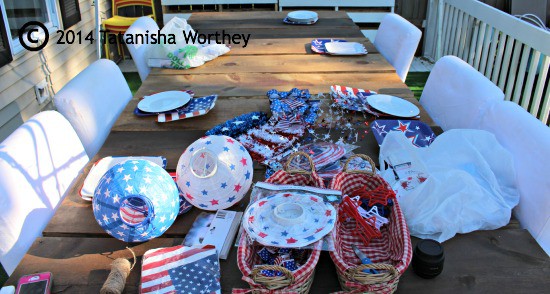 Whenever I start putting an idea together, I like to dump everything out on the table. Looks a mess, but it transforms into something beautiful.
First, I just have to mention the table. This outdoor dining DIY table is made out of wood pallets. And it was made for under $100 bucks! I do have outdoor chairs, but for this party I wanted something a little more elegant. I decided to use my white dining room chairs to make this table decor idea pop.
Again, as mentioned in many of my posts I scour through my local Dollar Tree to see what items I can nab for a $1.00. I'm always in shock to see that they continue to have such a great selection of items for each Holiday.
These Patriotic Bows were just $1.00 for a set of 3. I decided to use them as rings for the napkins.
Remember these cool little sunglasses from the Kids Frugal Patriotic Table Decor idea?
I had some leftover, so putting them in a little basket to help dress up the table with fun accessories. I also added some mints (because that's always necessary after eating a ton of good food) with patriotic wrapping! Again.. Dollar Tree!
Using white plates instead of paper plates was necessary to help pull of this Elegant Patriotic Table Decor Idea. If you don't have white plates, you can always user paper plates. Check out the ones listed here on Amazon.
And since we're partying and celebrating the 4th, Martini glasses were a must 😉 I picked up this particular set of Martini glasses from Kohls last year when they were on sale for $10.00. ( I also had a $5 off coupon, making a box of 4 just $5.00 bucks! Can we say Frugal?!)
And you can't have a drink without having the Patriotic Umbrella resting over your drink. I love these, since they also double as toothpicks.
Your guests will enjoy getting into the Patriotic spirit with not only their drinks, but wearing an "uncle sam" patriotic hat, that is also doubled as part of this table setting.
Tip: When planning and coming up with decor ideas for your table, always try to put in ideas that will generate conversation, laughter and leave everyone feeling that they had a great time!
For the centerpiece of the table, I decide to keep the pieces low and easy to move around (especially if you want to add food). I lined the table with red Christmas lights (… just wait till you see the effects of doing this at the end of this post) and garland made up of red, white and blue s stars. (again, Dollar Tree!).
I placed Red, White and Blue Tissue Pom-Poms (I used something similar in my Valentine's Table Decor idea) and inserted White Milk Jugs with Patriotic Streamers throughout the table.
I took a pop-up tent that was just laying around in my garage and spray painted it white. I then placed it on the patio over the table. My purpose for doing this was to hang lights.
I strung blue lights throughout the pop-up tent aka Gazebo. Then strung another line set of lights- Patriotic LED Paper Lanterns to run across the middle of the Gazebo. I really really LOVE these lights. And they looks awesome at night time. Just $1.00 each, plus the 2 AAA batteries ( I picked up a 4 pack for $1.00)
If you don't have time to go to your Dollar Tree or they don't carry them, you can order a set from Amazon!
Now…. Let's get to the main event. Putting all of these different ideas together to create a lovely outdoor Patriotic Party!
Here's how it looks during the day: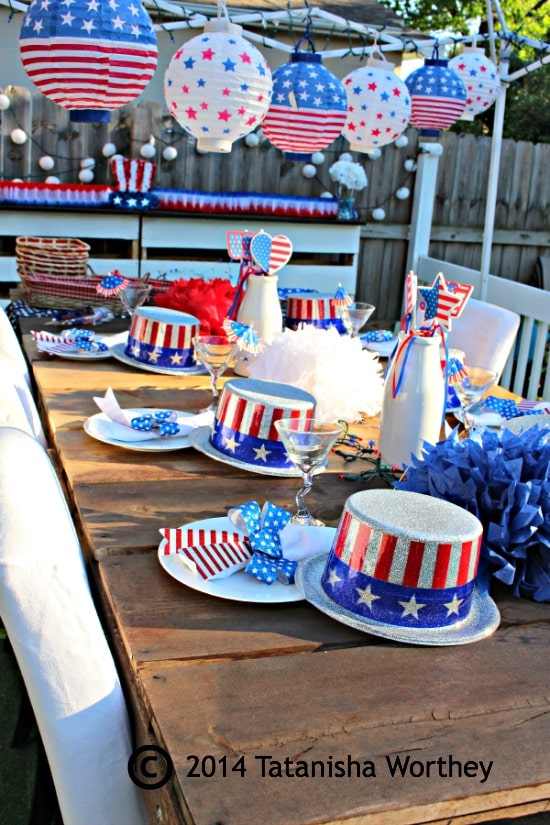 And then at night (my favorite!)
I love how the lights helps create the Red, White and Blue Patriotic feeling!
And again….
If you have a bar area, don't forget to spruce that up as well!
Of course mine has to be lined with drinks. I also made this bar out of wood pallets for under $20.00 bucks!
Now just fire up the Grill, add your own personal touches and food and have a great party!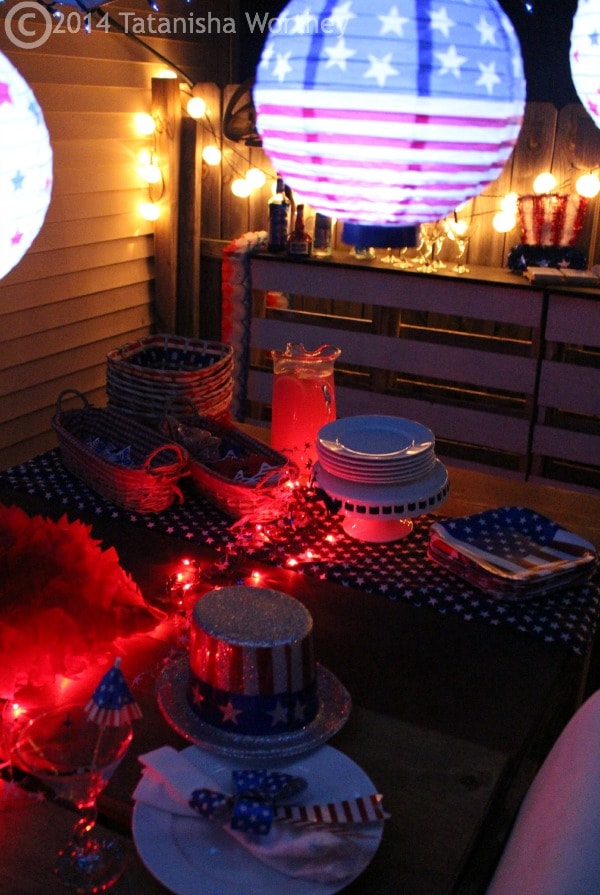 Let's take a second and breakdown what I spent on this table decor idea:
Patriotic Napkin Rings- I brought 3 sets ($1.00 per set)- $3.00
Patriotic LED Lanterns 10- $1.00 each- $10.00 (be careful- they can tear easily)
Patriotic Napkins & Pack of plates- $3.00
Additional Patriotic Decorations- $5.00
Patriotic mints- 2 bags- $1.00 each- $2.00
Patriotic Garland- 2 bags- $1.00- $2.00
Uncle Sam Hats- $1.00 each- $6.00
Batteries for the Lanterns- 3 packs- $3.00
Everything else I already had in my decor supply closet
So a total of $34.00 plus tax. Not too shabby 😉
I hope this Elegant Patriotic Table Decor idea gave you some ideas of what you can do in your own backyard. And this can be used for any Holiday– or a just because party. You can get even MORE frugal with the spending on this idea, by buying the patriotic table decorations at the end of this season when they are 75-90% off.
So what's your plans for the 4th? Do you plan on grilling out? Be sure to check out the plethora of recipes, crafts and patriotic related tips to help you get ready!
Happy 4th!
More DIY Patriotic Ideas