Can you believe that it's already time for Valentine's Day? It seems that we just celebrated Christmas and all the beautiful Christmas Decor.
Whether you plan to go out or stay in, you can have a beautiful time on a frugal budget. If you plan to go out here's a few tips on Frugal Valentine's Day Ideas. However, if you plan to stay in and host dinner in your home, I have a table idea for you.
Frugal Valentine's Day Table Decor Idea
With any Holiday, it's best that you plan ahead and not overspend. You can still have a beautiful holiday filled with simple, but classy decorations without blowing your budget. And I'm here to tell and show you how.
When putting together your decorations for Valentine's Day or any other Holiday start with what you have at home. So before I went out shopping for new Valentine's Day Decorations, I looked at what I could reuse from other Holidays. I already had these supplies in my closet:
*Frugal Decor Tip – this year plan on buying most of your decorations after the Holiday at 80% off and you'll have some FAB ideas for next year.
I picked up the napkin rings right after Christmas for 70% off at Target. I paid under .50 cents for each napkin ring.
The white napkins were scored at Kohl's stacking a 15% off coupon with a $5 off coupon, along with a great Kohl's sale to pay under $5 bucks for a 12 pack.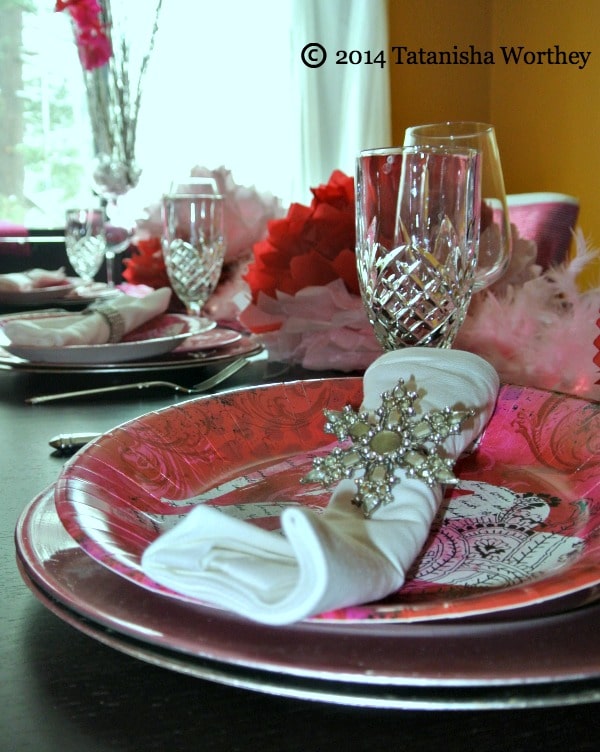 One thing that can save you time and even money is finding themed or upscale paper plates. They can compliment a table nicely (as shown above). I picked up the Valentine Day plates at Hobby Lobby for 50% off. Stacking it with Chargers and nice wine glasses, you probably can't even tell that these are paper plates. You will definitely pull off the WOW factor and it will only cost you a few bucks ( I paid $3 for this (16)pack).
The center of the table is always the best place to start when putting together a fabulous Table Decor Idea. I created this table runner using pink mesh and pink feather boa. (Be sure to measure your table to make sure you have enough.)
I picked up pink mesh from Hobby Lobby (50% off) and topped it with pink feather boa(again Hobby Lobby at 50% off) .
Another idea that you can do is use tissue paper to create beautiful decorations.
For the centerpiece, I picked up tissue pom-poms at a bargain of $3 bucks (Hobby Lobby again!). I love doing DIY projects, but I honestly don't have the patience to always create ideas from scratch. However you can "cheat" by doing a few of my tricks. (and if you just love the DIY factor, we have 15 DIY Valentine Decor Ideas that you can check out!)
Just follow the directions on the product which is pretty simple. Spread the tissue paper and make sure the knot is right in the middle. Then pull the tissue paper apart one at a time.. slowly. It's tissue paper, so it's important that you pull them apart individually slowly so they don't tear (and they tear easily).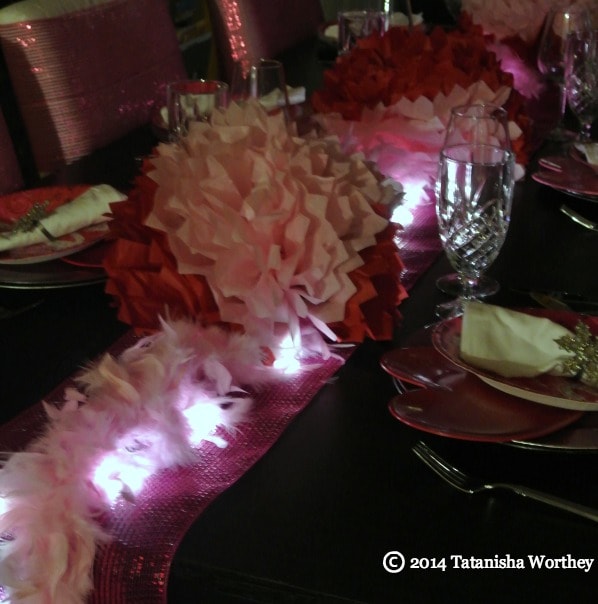 And another look at night (this will look great with low lights– your guests or significant other will love this romantic setting)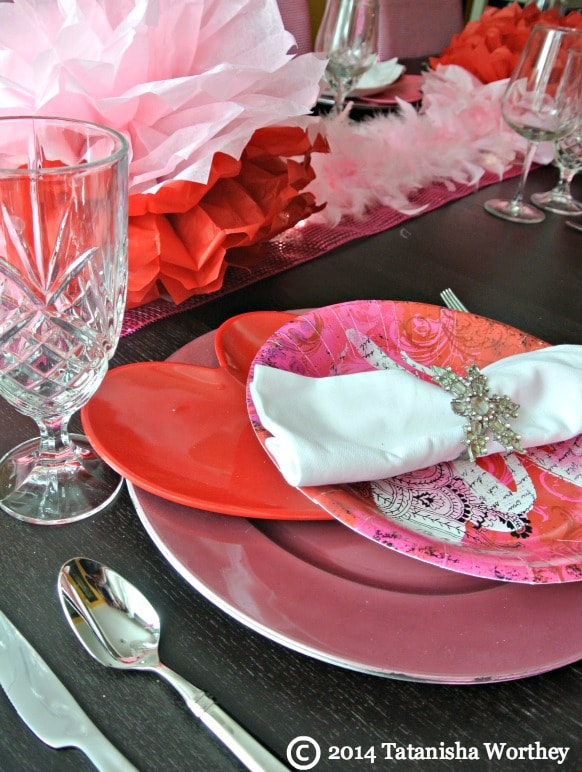 I gave the table setting a little flair, by adding heart-shaped plates in pink and red under each plate. I picked these up at the Dollar Store for just $1.00.
If you have a side board or buffet be sure to dress up that area.
How I created a frugal Valentine's Day centerpiece for the buffet table:
I had leftover pink mesh from the table runner. I cut three strips and layered them across the table. The vase was scored at Home Goods for just $8 bucks on clearance. I scrounged around in my supply closet and put together the rest. Clear rocks at the bottom of the vase, along with winter sticks and a pink orchid finished off this simple and frugal idea. (All material were previously purchased at Michael's).
Putting it all together and this is what we get: (Kind of sounds like the Hokey Pokey song 😉 )
Putting together this Frugal Valentine's Day Table Decor Idea cost me a little under $35 bucks. You could skip the pink mesh and pink feathers and do a table cloth instead. I am not a huge fan of full table cloths because I love the modern look and showing off my table (Ikea & Chairs too!)
Now all you need to do is head into the kitchen to put together a fabulous Valentine's Day menu and you will knock the socks off your guests and/or significant other with this Frugal Table Decor Idea. If you prefer a more minimalist decor style, check out this Simple Valentine's Day Table Decor Idea.
And don't forget about a fabulous Valentine's Day Dessert! We have a variety of Valentine's Day Dessert Recipes posted here!
Here's another look at how your table may look for your upcoming Valentine's Day Party!
More Valentine Decor Ideas
Tatanisha plays a Super-Fun Mom to three active & handsome boys. A Foodie at heart and Wife to an awesome Chef. You can find her designing new and frugal ideas at Table Decor Ideas.