Dry desert air, salty beach breezes, ocean water, sweat, sand, and chlorine all the things we love about summer, but can wreak the most havoc on our skin. They leave it dry, itchy, and desperately in need of relief. You can go pay spa prices for mineral waters with a few other ingredients in them or you can gather a few basic ingredients and create your own at home.  This Homemade Soothing Summer Face Mist gives your face, neck, and cleavage some much-needed refreshment. It also tones and moisturizes while outdoors and acts as a soothing after-sun spray as well. Toss a bottle into your purse, duffle bag, or beach tote, and treat yourself!
Soothing Summer Face Mist
Materials:
1/4 cup distilled water
1 tablespoon aloe vera gel
1 teaspoon witch hazel
1 teaspoon coconut oil
4 drops frankencinse essential oil
2 drops tea tree oil essential oil (Melaluca)
4 ounces glass spray bottle with fine mist sprayer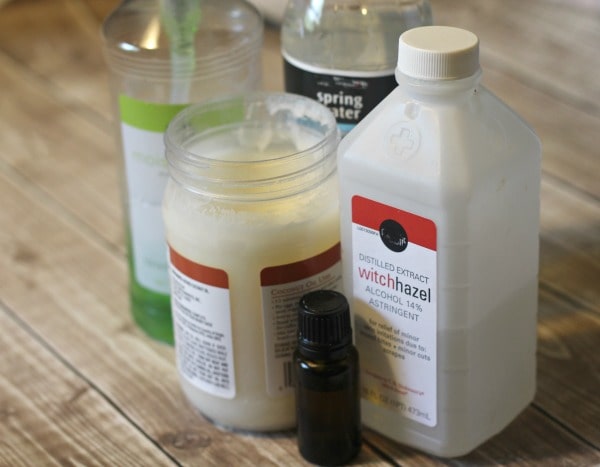 Directions:
Pour water into bottle. Use a funnel if needed or you can grab your small glass measuring cup with a pouring lip to make the job easier and less messy.
Melt coconut oil and pour in. You could also use fractionated coconut oil so it stays liquified.
Add aloe vera gel, witch hazel, frankincense, and tea tree essential oils.
Shake well to combine all ingredients thoroughly.
Every time you use your soothing face mist shake bottle well first.
Use as a refresher when playing sports, laying on the beach, working in your garden, or even on a long late night flight- just reduce the bottle size to 2 oz.
You can substitute in other essential oils to get your favorite scent and still get healing benefits, some other essential oils that are great for your skin are – Lavender,  Geranium, Rose, Myrrh, and Patchouli.
More DIY Summer Skincare Products:
Natural Homemade Insect Repellent
DIY Lemon & Rosemary Gardener's Hand Scrub
Homemade Sunscreen Recipes