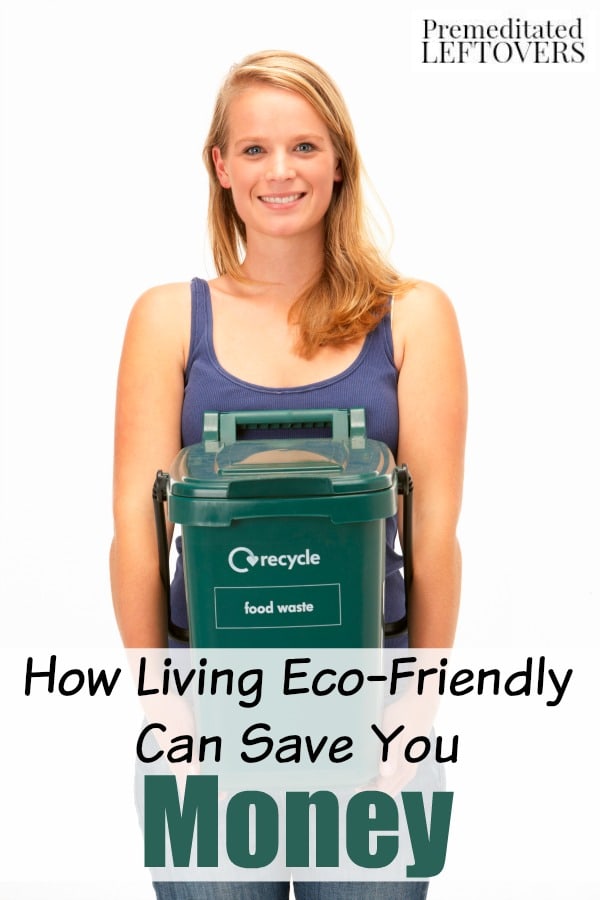 If you've ever considered living an eco-friendly lifestyle, the first thing you might have noticed is the expense. At first glance it might look like living this type of life is extremely expensive. However, I've come to realize that it doesn't have to be expensive. In fact living eco-friendly can actually save you money!
Today's post is going to go over some of the ways you can save money living a more eco-friendly life.
Save Money By Living An Eco-Friendly Lifestyle
Cook From Scratch – Not only does cooking from scratch save you a lot of money but their are health benefits as well. Skipping all of the processed ingredients means you are putting better food into your body, which in turn can help you save on medical expenses. Not to mention cooking from scratch requires less resources from the environment.
Say No to Paper Towels – My whole life I've been a big user of paper towels. I'm going to be honest and tell you that I still struggle with completely cutting the cord. However, I've been trying very hard to use only microfiber towels, dish towels and cloth towels and I have already noticed a difference in my weekly shopping budget. I'm easily saving at least $10 a week and helping the environment. It's a win-win!
Start a Garden – Produce prices are consistently going up. Sadly, it's getting to the point where it's more affordable to buy frozen or boxed food than fresh food. By starting a garden you can quickly and easily start shaving costs off your grocery shopping bill. If you are overwhelmed by the thought of gardening, start small. Even starting out with herbs will help you save money.
Toss the Water Bottle – On average a plastic bottle of water will run you about $1.49, while it might not seem like a lot of money that amount can quickly add up. Invest in a high-quality stainless steel water bottle and say good-bye to plastic bottles. Not only will you be living a eco-friendly lifestyle you'll be saving a ton of money.
Conserve Water – Water is a precious resource and we should all be doing our part to conserve. Make it a point to take shorter showers, turn off the water when brushing your teeth, use low flow shower head and only run the dishwasher when it's full. These simple steps help us save money and ensure we are doing our part to conserve water.
Conserve Energy – Being proactive about your energy usage is one of the easiest ways to save money and live more eco-friendly. Use CFL light bulbs, unplug items when they are not in use, make sure your home is well insulated and using energy efficient products are all great ways to save money.
Think Before You Drive – It's so easy to just jump in our cars and go run around town. Not only does this cost us gas but it adds to the pollution. Plan out your weekly errands and if at all possible carpool. By carpooling and planning out trips you'll save money and reduce pollution. If possible consider biking or walking.
Join Your Local Freecycle – If you haven't heard about Freecycle you'll want to do a Google search, like now! Freecycle is similar to Craiglist but everything is free. Yes, I said free! The Freecycle community is dedicated to helping the environment by not dumping unwanted items into land fields, instead they trade with other members in the Freecycle community. Let me tell you from first-hand experience this site is awesome. Three years ago I got a stand up freezer free!
What tips do you have on saving money by living an eco-friendly lifestyle?
More Frugal & Eco-Friendly Tips