Whether you are studying rainbows in a science unit or getting into the St. Patrick's Day season, this Easy Rainbow Wall Hanging Craft for Kids is a must try. Made from a few common crafting supplies, you can make your own mini rainbow wall hanging perfect for brightening up any space. There is no sewing required, and this is a craft that even little ones can do. Here is how you can get started making your own, no sun or rain required.
Easy Rainbow Wall Hanging Craft for Kids
Supplies Needed:
Embroidery loop (I prefer the wooden ones in one of the smaller sizes)
White felt
Assorted pipe cleaners in the colors of the rainbow (red, orange, yellow, green, blue, purple)
Scissors
Craft or hot glue
Cotton balls
I was able to find a light violet blue pipe cleaner that I used for the "indigo" part of the rainbow. If you see these feel free to add them, if not the colors look great as they are.
Directions:
1. To begin, press the white felt in between the wooden embroidery loops. Make sure it is pulled tightly and not loose.
2. Once the fabric is securely in place, use your scissors to cut off any extra fabric around the edges. Some people like the natural look of leaving some trim on, so just do what works for you and your taste.
3. You can now start cutting the parts of your rainbow. Start with the red and cut the longest strip (size of strip will depend on how large of a loop you are using) and cut each subsequent strip a tad smaller so it will all fit together in the rainbow shape.
4. Start arching the pieces of pipe cleaner in preparation of assembling them.
5. Add some glue to the back of your red strip and press it to the center of the loop. Hold it in place until nice and secure.
6. The next strip can now be added (orange) directly under the red. Just add some glue and press. Continue additional strips in the order of the rainbow as seen below. You may have to snip pieces and make adjustments for them to fit together nicely, and that is perfectly fine.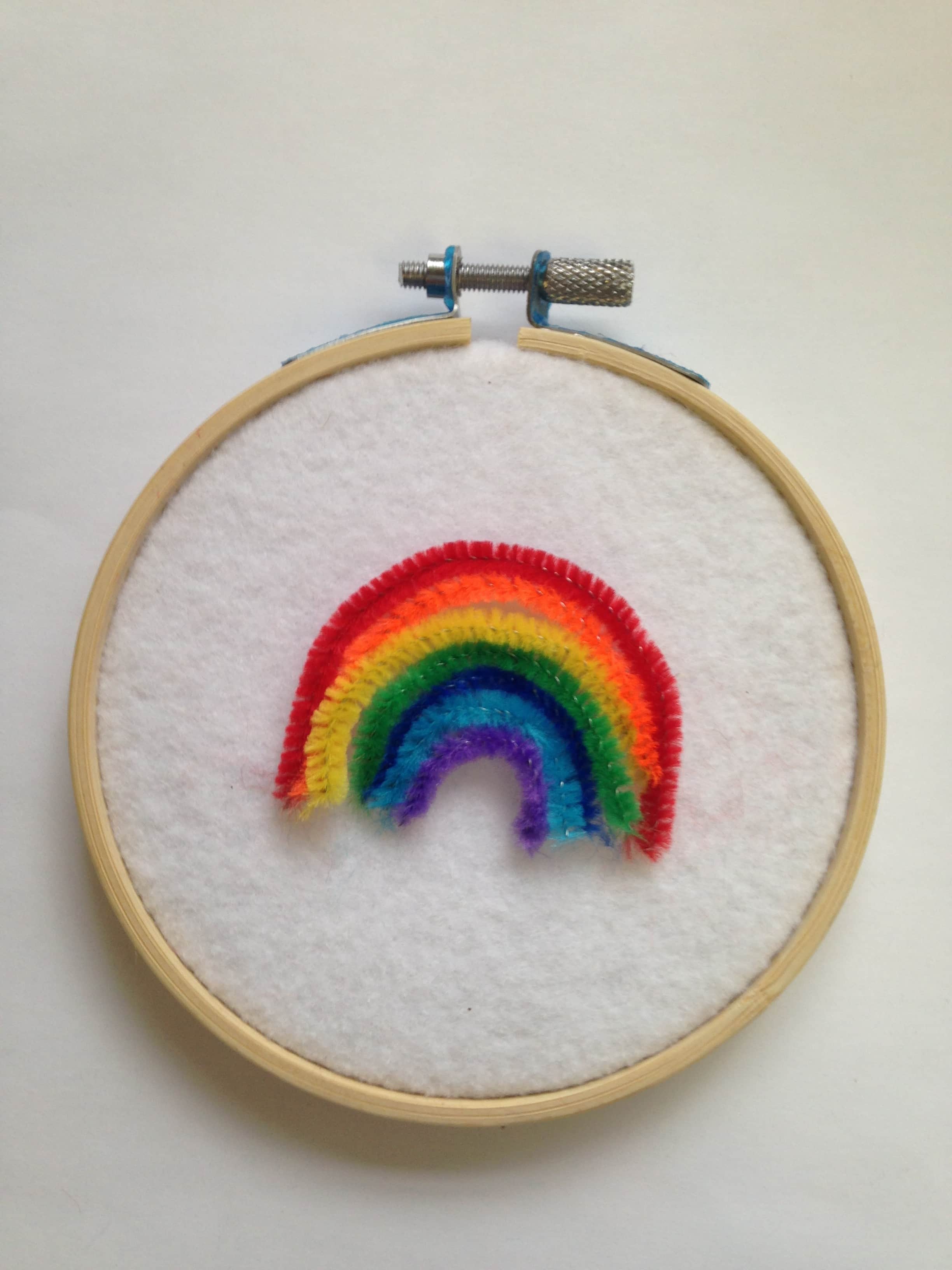 How cute is this little rainbow? Now all you need to do is add some clouds. For our clouds we used white cotton balls. I actually took one cotton ball and pulled it into two pieces. I added glue to the back of each piece and pressed it at each end of the rainbow.
Pretty cute, isn't it? Your rainbow wall hanging is now ready to be displayed and enjoyed. Gather your supplies and see how easy it is to bring your own rainbow indoors!
More Easy Crafts for Kids
Build Your Own Rainbow Kit for Kids
15 President's Day Crafts and Activities for Kids
Wine Cork Sailboat Craft for Kids