Kids will love making this Christmas Fairy Garden to celebrate the magic and wonder of the holiday! It's simple to create with fun Christmas miniatures and a small Rosemary plant.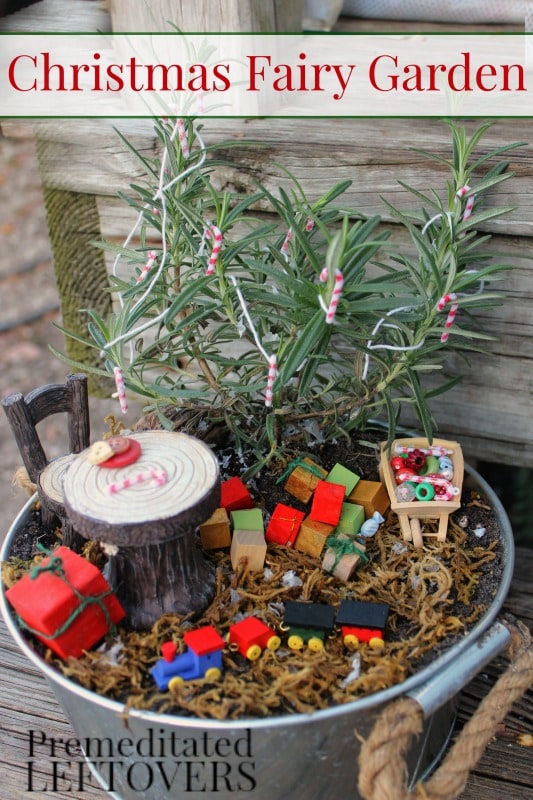 Christmas is full of such magic and wonderment. Fairy gardens are the same way so they make a natural pairing. This Christmas Fairy Garden is a fun holiday project for kids. It's easily made with a few items from the miniature department at you local craft store, craft supplies, and miniature ornaments. Also, I hear fairies love sparkly things and presents so I just knew that it would be fun to put together with my little ones. We made our garden with a mixture of things we had on hand and a few new items we picked up. Don't be afraid to dig into your craft supplies and create your own unique Christmas Fairy Garden!
Christmas Fairy Garden Tutorial
Materials Needed:
1 small Rosemary plant
potting soil
1 container of your choice
red and white twine
moss (real or fake)
miniature Christmas items: candy canes, gifts, candy, ornaments, red and green buttons and beads
fake snow
natural elements: rocks, pinecones, sticks
Directions:
1. Start with a container in your choice of sizes. I went with a smaller round galvanized tub I had on hand. If you are going to have live plants fill nearly to the top with a good quality potting soil, be sure to poke drainage holes in the bottom if your container doesn't already have them.
2. For our tree I grabbed a full Rosemary plant, I love to add real plants to my fairy gardens whenever I can. Rosemary not only gives you the look of a Christmas tree but it has a lovely smell as well and adds a special touch to your Christmas Fairy Garden.
3. Use red and white twine to wrap your tree with garland and add mini candy canes or other small items to finish the decorations. I added a miniature wheelbarrow full of Christmas colored beads so it looks like the fairies are ready to finish off the tree.
4. Next, sprinkle a light layer of loose moss to the top of your soil, add a sprinkle of fake snow if you like to set a winter Christmas scene. You can get a good sized bag at your local dollar store that will last a long time. Add a few rocks, pinecones, sticks, or other natural elements to still give it the feel of being out in the woods.
I picked up these little unfinished cubes at the craft store. A Christmas Fairy Garden must have gifts! You could also make some Christmas packages out of LEGO's as well. Paint your boxes in various holiday colors and tie a small bow onto some of them with twine then scatter them under the tree.
5. A miniature train set and wheelbarrow came from the dollhouse miniatures section of the craft store and adds a perfect holiday feel to the scene.
6. We added a large red button for a plate and a couple tiny buttons for cookies for tiny fairy Santa Clause of course!
If you are going to be placing your fairy garden out in the elements I highly recommend spraying all your furniture and other accessories with a couple coats of clear spray to protect them. A covered porch or indoors will make your fairy garden accessories last much longer.
More Fairy Garden Tutorials:
How To Create a Magical Fairy Garden
Upcycled Globe Light Enchanted Fairy Lantern