This Shamrock yarn craft for kids is an easy clover activity for St. Patrick's Day.
I love making fun things with the kids, and this Irish Shamrock Yarn Craft is a great addition to any St. Patrick's Day or Spring craft activity. This is ideal for younger kids to make since it involves those fine motor skills. It is also a fun way to teach more about Irish traditions and the folklore around Shamrocks around the fun green holiday.
Yes, there is something unique and special about the Irish Shamrock during St. Patrick's Day. This little plant is highly sought after for good luck. That means kids and adults alike will grab them when that elusive four clover plant shows up in their path. However, legend has it that St. Patrick used a shamrock to explain the concept of the trinity – of three in one- using one part to represent the Father, another the Son, and the other the Holy Ghost.
Whether you use this in Sunday school to explain the Trinity or simply a fun Shamrock activity for St. Patrick's Day, you will find making this simple craft is tons of fun and one of those inexpensive crafts you will love using to keep kids busy.
Irish Shamrock Yarn Craft Tutorial
Supplies Needed:
Thin cardboard, like a cereal box
5/8″ green ribbon
Hole puncher
Forest Green Yarn
Writing utensil
Scissors
Hot glue/hot glue gun
Directions:
1. Use a writing utensil to draw a clover or shamrock shape onto your cardboard: Draw a heart shape, then draw one heart shape on each side of the first with the sides touching. Draw a stem underneath.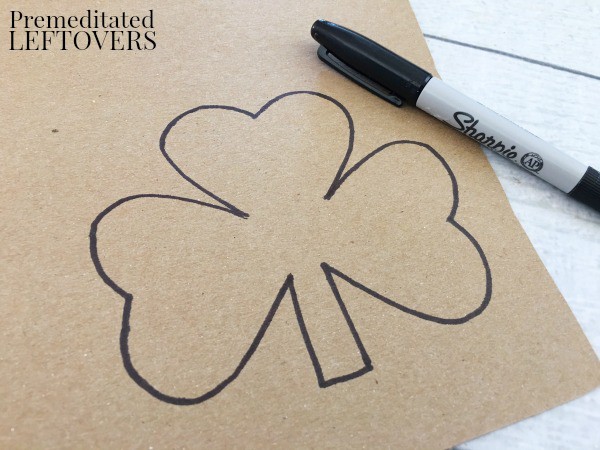 2. Cut out your shamrock with scissors.
3. Punch a hole on the top of the clover using a hole puncher.

4. Cut a piece of ribbon about 8″ in length, place your ribbon halfway through the hole, and tie the ends into a knot.
5. Carefully hot glue the end of the yarn onto the back of the clover and begin wrapping your yarn around each leaf and stem of the clover until it's completely covered.

6. Cut the end piece of yarn and carefully glue onto your shamrock to hold into place.
Even if you aren't great with freehand drawing, this Irish shamrock yarn craft is easy to make. Simply draw and cut to make these as big or small as you wish. They are perfect for adding to a garland to hang on your mantle, or to hang from lights around the room. You can even just use this as mentioned before, for a great craft for your kids.
More St. Patrick's Day Crafts:
St. Patrick's Day Leprechaun Trap Craft For Kids
Wine Cork Clover Stamps: St. Patrick's Day Craft For Kids
DIY Chenille Shamrocks: Fun St. Patrick's Day Craft For Kids
DIY Lucky Leprechaun Rainbow Spy Glass