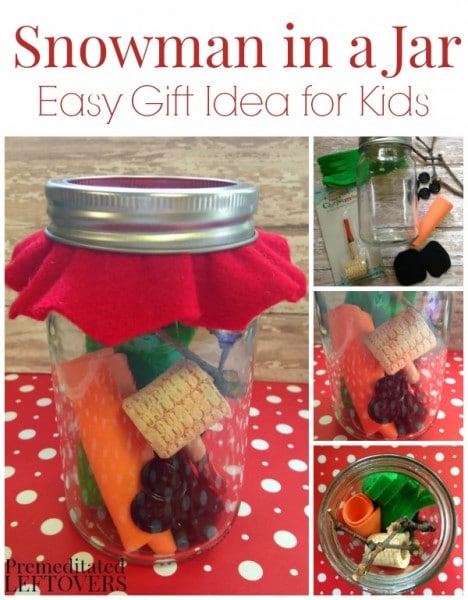 Do you wanna build a snowman? If so, here is a fun idea for creating a snowman kit in a jar. When you make a snowman in a jar, you have all the fixings for the perfect snowman right at your fingertips. This snowman in a jar makes a great craft for kids, or can be given as a gift. It is the perfect way to encourage some outside fun in a way that is so frugal. Here is how you can get started.
DIY Snowman Kit in a Jar
Materials:
Mason Jar with lid
Small square of scrap fabric
Pair of twigs or sticks
Black buttons
Black felt
Orange felt
Long strip of green felt for scarf
Hot glue and glue gun
Scissors
You can find everything you see here at your local craft store. Craft stores are a great spot to find the corn cob pipe, buttons, mason jars, felt, and other materials needed for this project. You can also buy a complete snowman kit in some locations.

Directions:
1. Begin by creating your felt pieces. First, cut out two rounded squares from the black felt. These will be your coal eyes. If you want, you can substitute the coal eyes with actual coal (a bit messy) or black rocks.
2. Now, create the carrot. We cut out a large triangle from the orange felt and twisted it into a carrot shape. We secured it in shape with some hot glue.
3. Your snowman now needs a scarf. We cut a long length of green felt and fringed the edges with scissors.
4. Place the three felt items into the jar. Now, tuck in the pipe, twigs, and buttons. Arrange them neatly in the jar so they can easily be seen on the outside.
5. Place the piece of scrap fabric over the top of the jar. Secure the lid in place. You can ruffle the fabric a bit by trimming into a scalloped shape with your scissors.

Your snowman in a jar is now ready to be presented! It is tons of snowman fun just waiting to be opened.
Gather your supplies and give this snowman in a jar a try.
More DIY Gifts for Kids
10 DIY Christmas Gifts for Boys