These printable valentine baggy toppers turn bags of candy into adorable valentines.

My youngest son loves Valentine's Day and I enjoy helping him celebrate it. The increased awareness of food allergies and diet restrictions has made bringing treats to classrooms a little more difficult. One thing I have found helpful is to use printable baggy toppers with sealable snack bags. This allows me to fill the bags with items that are approved by the school or tailored to each child's individual dietary needs.
Printable Valentine Baggy Toppers
Supplies Needed:
Printer paper (cardstock is best)
Paper trimmer or scissors
Scoring blade (optional)
Snack size sandwich bags
Your choice of Valentine treats
These printable valentine baggy toppers fit a standard snack size bag. I always recommend downloading the file and opening in Acrobat. When printing uncheck the "fit to page" or "reduce to fit" option to ensure that the printable is the correct size and shape. You can find the PDF file for the printable valentine toppers here or by clicking the image below.
I used a paper trimmer to trim the toppers. Paper trimmers will give the best cut, but scissors would also work if you don't have a paper trimmer.
Then I used a scoring blade (black) to score them in the center or at 2″. Now, I had super heavy card stock, so scoring may not be necessary but it does make a much cleaner fold.
Fold the printables in half.
Fill the snack bags with treats and attach the toppers to the bags with two staples per topper. The toppers are shown here with dipped chocolate clementine hearts.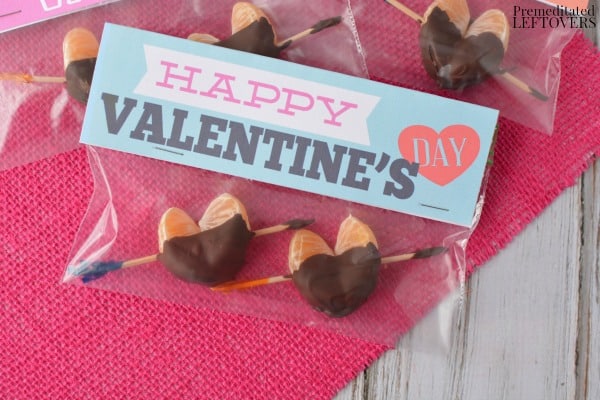 Here are some other heart treat ideas for your valentine baggies:
More Valentine's Day Ideas for Kids:
5 Valentine's Day Games for Kids
15 DIY Valentine's Day Cards for Kids
15 Valentine's Day Crafts for Kids
Easy Valentines Kids Can Make for Their Teachers
Thanks to Kari of Craft Create Cook for creating the printable for me.