It seems as though we are always looking for ways to dress our holiday trees for less. This canning jar lid wreath ornament is a perfect way to do just that. Using just a canning jar lid and a few crafting supplies you may already have on hand, you can make a canning jar lid wreath ornament just like this one. Keep it for your own tree or give it as a gift. Either way, it a frugal way to decorate for the holiday season. Here is how you can make your own!
DIY Canning Jar Lid Wreath Ornament
Supplies needed:
Canning jar lid
Scrap ribbon or fabric
Red felt
Twine
Scissors
Hot glue, glue gun
We found the ribbon we used here for just $1 a roll at our local Dollar Tree store. The lid was leftover from a jar we had done some crafting with. You don't need a whole sheet of red felt, just a small leftover scrap. As you can see, these are common items that are so easy to find and afford.
Directions:
1. Begin by apply a dab of hot glue to the end of your ribbon. Press it to the jar lid securely until dry.
2. Once the ribbon is securely in place, start wrapping it around the lid. Pull tightly as you do, slightly overlapping as you go along.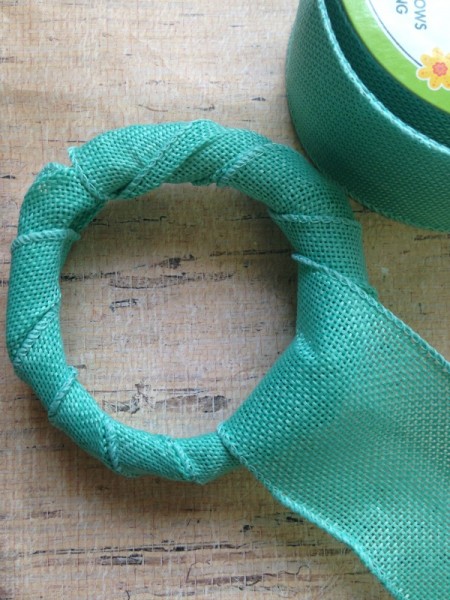 3. Once your canning jar lid is covered with the ribbon, snip any extra off. Secure the end to the wreath with another dab of glue. You will now see the wreath take shape.
4. You can now create the bow. Cut a small circle out of your red felt. You also want to cut out two small, rounded edged triangles. These pieces will form your bow. Simply secure them to the bottom of your wreath with glue.
5. Add a length of twine for hanging. Just wrap it around the wreath and secure at the top in a bow. You can also use ribbon if you wish for a less rustic look.
Your canning jar lid wreath ornament is now ready to be enjoyed. Hang it from your own tree, or attach it to a gift for a friend. It is such a fun way to use any old canning jar lids you have around, and a great way to get into the spirit of the season for less.
Gather your supplies and try out this canning jar lid wreath ornament. It is sweet holiday craft the whole family can enjoy.
More Christmas Crafts for Kids
Clothespin Nativity Scene with a Popsicle Stick Stable