This DIY Tic-Tac-Toe travel game bag is easy to make! The outside of the bag forms the game board and the bag holds the game pieces.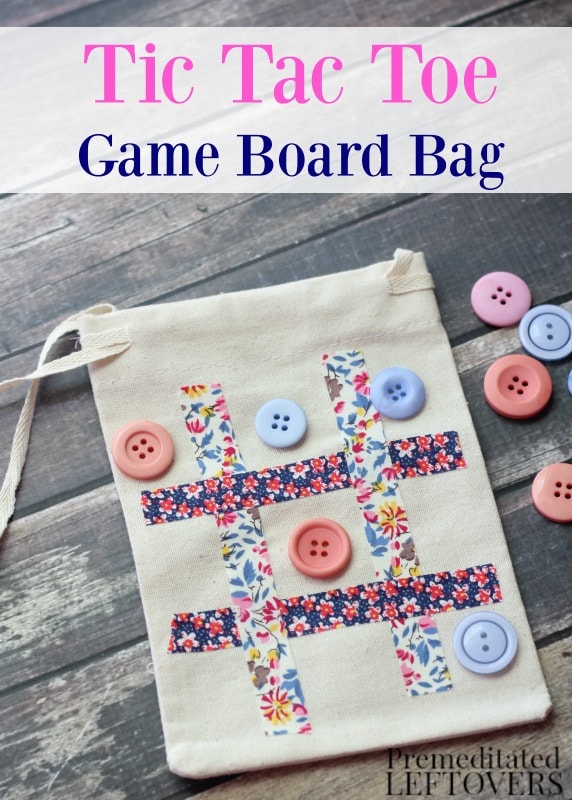 I love to create fun and sweet little activities for the kids, or for them to give as homemade gifts to their friends. This DIY Tic-Tac-Toe Travel Game Bag is simple enough that the kids can have fun being involved in crafting it from start to finish. When its complete, they have a cute travel game to enjoy well. Homemade just feels more thought out and this game bag is definitely much cuter than scratching out a game of tic-tac-toe with a scrap of paper! I picked my muslin bags up in a dollar bin but I found a dozen for a great price on Amazon as well if you want to make a whole batch.
DIY Tic-Tac-Toe Travel Game Bag
Materials:
8-10 buttons in two different colors.
Instructions:
Cut your fabric tape about 1/2″ shorter than the length and width of your muslin bag to make the tic tac toe board. Peel off backing and press onto bag adhesive side down. Mix up your fabrics to make it more whimsical. I trimmed mine after applying it to the bag but before ironing.
Different brands of fabric tape stick better than others. Some need a little extra adhesive like fabric glue and some will adhere well with a bit of heat and pressure from the iron. I covered my bag with a thin cloth and pressed the iron down for 25-30 seconds.
Once your bag has cooled or the glue has set, put your buttons inside the bag and draw tight.
You now have a cute little travel tic-tac-toe game. These are great for waiting at restaurants or doctors offices!
More Homemade Activity Boxes for Kids:
DIY Construction Site Travel Box
Arctic Adventure Travel Play Set
This was originally published on April 4, 2016. It was updated on July 3, 2019.