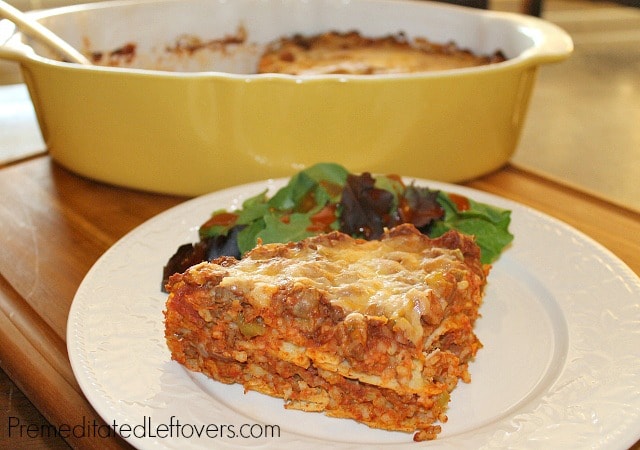 I have been wanting to make a taco casserole using corn tortillas for quite some time, but never saw one that seemed like a good match for my family. And then I remembered that I am a recipe developer and I could just create one. 🙂 This might not look like Corn Tortilla Casseroles that you have had in the past, but it was a huge hit with my family.
This recipe came together very quickly because many of the ingredients were already prepped and sitting in my freezer from my batch cooking day and I had  homemade taco seasoning  on hand.
I made the rice layer by combining rice,  homemade fresh salsa and 2 eggs. The eggs helped hold the rice together and helped the casserole hold its shape when served.

Corn Tortilla Taco Casserole
Ingredients
½ lb. hamburger
1¾ cups cooked (or 15.5 oz. can) pinto beans
15 oz. can tomato sauce
1 cup diced onion
½ cup diced bell pepper
2 tablespoons taco seasoning mix
4 cups cooked rice
1½ cups salsa
2 eggs, beaten
10 - 12 corn tortillas
2 cups shredded cheese
Directions
If necessary, brown hamburger.
Combine hamburger, beans, tomato sauce, onion, bell pepper, and taco seasoning.
In a medium bowl, combine rice, salsa, and eggs.
Brush or spray a casserole dish with olive oil.
Cut Tortillas into fourths with a pizza cutter or scissors and layer half on the bottom of the casserole dish.
Spread half of the rice mixture over the tortillas. Layer half of the meat mixture over the rice. Sprinkle half the cheese over the meat mixture.
Repeat layers with the remaining ingredients.
Cover with foil and bake at 350 degrees for 45 minutes. Remove foil and bake for an additional 10 - 15 minutes or until cheese is brown and bubbly.
More Casserole Recipes
Roasted Potato and Ham Casserole