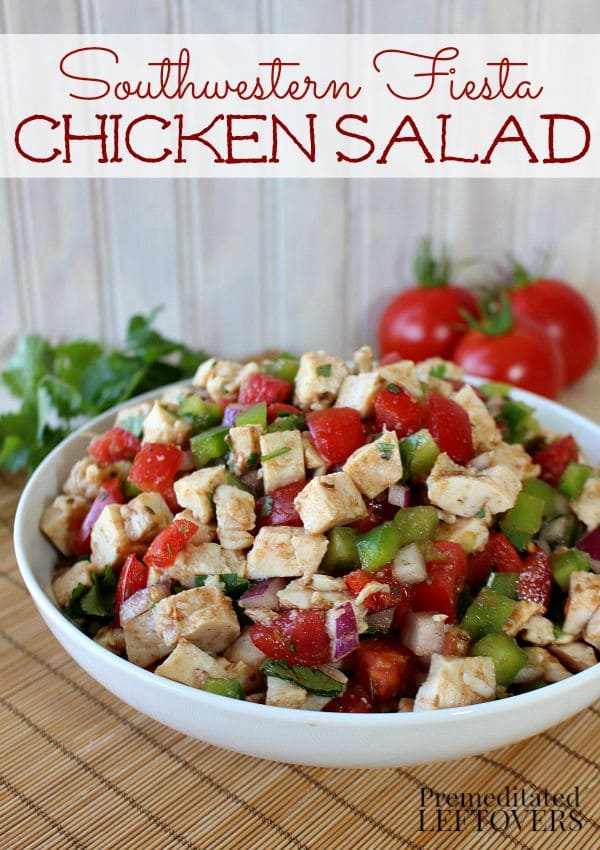 I have never met a chicken salad that I didn't like. Unfortunately many of them contain quite a bit of mayonnaise. This flavorful chicken salad recipe is dressed with tomato juice and spices and is a delicious low-fat alternative to traditional chicken salad recipes.
This Southwestern Chicken Salad Recipe is made with cooked chicken that has been cubed and is a delicious way to use up leftover chicken. It uses lots of vegetables straight from the garden: tomato, onion, bell pepper, and cilantro.
The dressing is rich in flavor, but mild. It is made by combining tomato juice, garlic, cumin, and marjoram.
Since this Southwest Chicken Salad does not use any hot peppers, it is mild enough that even young children can enjoy it. However if you like extra heat, feel free to dice a jalapeno pepper and add it to the salad.
This chicken salad is delicious served on a bed of greens, on a roll, in a taco shell, or even in a quesadilla.

Fiesta Chicken Salad
Ingredients
1 lb. cooked chicken, diced
1 cup tomato, cut into thin strips
½ cup onion, diced
1 bell pepper, diced
¼ cup cilantro, chopped
⅓ cup vegetable or tomato juice
2 cloves garlic, minced
1 teaspoon cumin
½ teaspoon marjoram
Directions
In a medium bowl, combine, chicken, tomato, onion, tomato, bell pepper, and cilantro.
In a small bowl, combine tomato juice, garlic, cumin, and marjoram. Mix well.
Pour juice mixture over chicken and vegetables. Mix well. Cover and refrigerate for at least 2 hours to let flavors blend.
Serve on bed of lettuce, in a tortilla, as a sandwich, or as a side dish in a buffet.
How do you lower the fat or calories when making your favorite recipes?
More Chicken Salad Recipes:
Chipotle Ranch Chicken Salad Wraps
Easy Summer Couscous Chicken Salad