This is my signature frosting. When someone in my family asks me to make my frosting, they are asking for my Mocha Fudge Frosting. I do not remember the source of the recipe though I think my mom shared it with me. The first time I clearly remember making it was the summer I was 10 years old. The memory stands out because I won a baking competition with a cake topped with this frosting.
When I was asked to make cupcakes for a party my children were attending last week, I knew one batch had to be topped with their favorite frosting. However, I had a minor panic attack after discussing the cupcakes with the hostess. She asked what flavors I was making. I told her that I was making Chai Spiced Cupcakes and Mocha Fudge Cupcakes. She paused and asked if I was going to make them pretty and add sprinkles. I told her I would do my best to make them pretty, but I didn't do sprinkles. Another pause, then she asked what color my cupcakes would be. I told her the mocha fudge would be dark brown and the chai spiced cupcakes would be tan. Another pause and then she said she was sure they would be delicious and told me her son always raved about my cakes.
And then it hit me: I didn't think about colors or the party theme. As I was frosting the cupcakes, I told my daughter about the conversation and she said, "This is why a baker and an interior designer should not throw a party. You don't think about how your cupcakes will look with her tablescaping and she doesn't realize that sprinkles have a fake chemical taste that will pollute the flavor of your cupcakes".
Exactly!
My daughter accurately assessed the problem, but she could see that I was still nervous about bringing my cupcakes and said, "Don't worry mom, my favorite color is chocolate. And chocolate goes with everything!"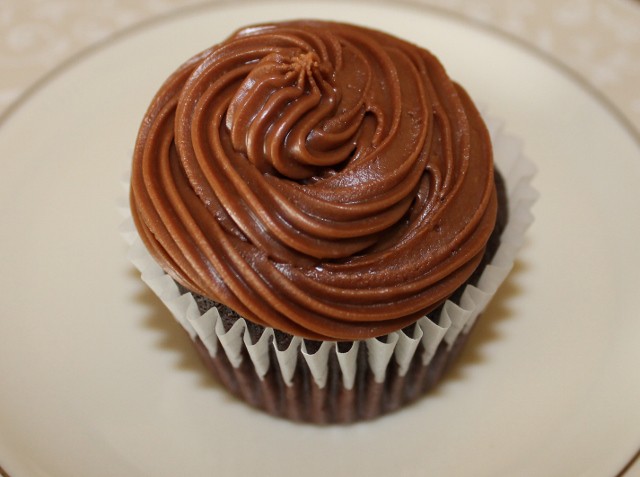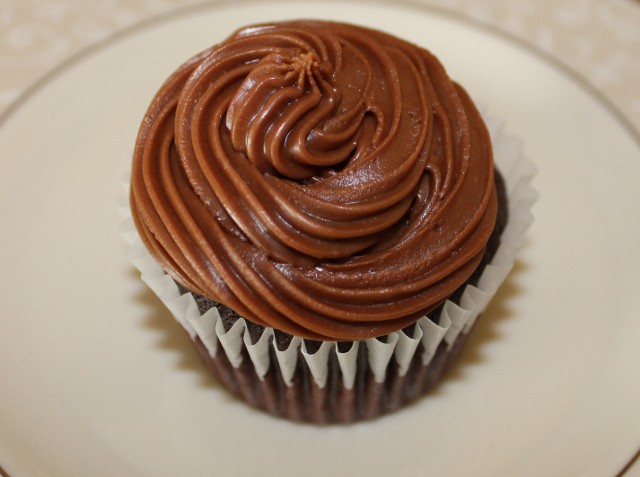 To make Mocha Fudge Cupcakes, replace the liquid in your favorite chocolate cake recipe with coffee. Then top them with this delicious mocha fudge frosting, which can easily be made dairy-free for lactose intolerant guests.

Ingredients
6 tablespoons butter, softened (I use dairy-free margarine)
6 tablespoons brewed coffee
6 tablespoons cocoa powder
1 teaspoon vanilla
4 cups powdered sugar
Directions
Combine butter, coffee, cocoa, and vanilla in a mixing bowl. Stir to combine.
Slowly add powdered sugar until it has bee fully incorporated.
Use a mixer and beat on medium-high until frosting is light and fluffy.
Add more coffee or sugar to achieve desired consistency.
Notes
This recipe makes enough frosting to frost 24 cupcakes or a 13 x 9 sheet cake.
My friend was very gracious when I arrived with brown and tan cupcakes that did not match her beautiful blue tablecloth. I apologized for not thinking about colors and she told me not to worry and said she was sure the cupcakes would quickly disappear. They did, but I made a resolution to look into natural dyes that will not impact the flavor of my cakes and frostings for future birthday parties.
More Frosting Recipes:
Dairy-Free "Butter Cream" Frosting