These 10 free apron patterns will liven up your kitchen and protect your clothes.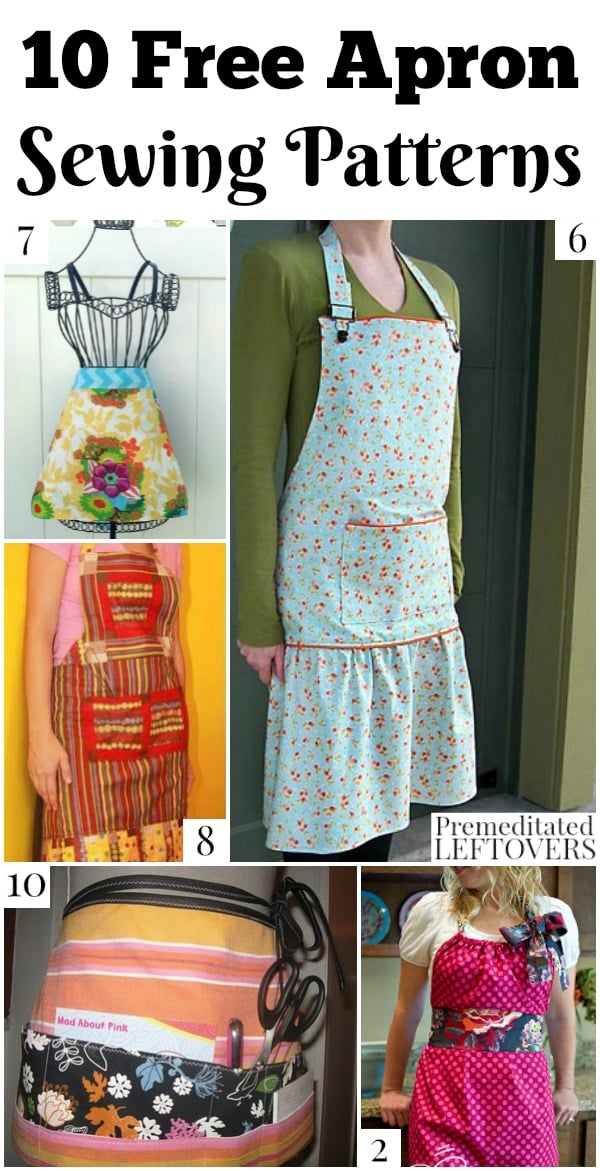 I have quite a 'thing" for aprons. I don't know if it is their vintage appeal or the fact that they just are kind of fun to wear, but I have become somewhat of a collector of aprons. I have several plain ones that are just solid colors, but I also have some that have ruffles, lots of pockets, and fun stitching. I wish I had a better idea of how to sew well and I would have more, I am sure. I think when I try to give sewing another shot again, I may just start with aprons!
To do this post, it was super hard for me to narrow down my favorite 10 that I found all over the 'net. But here it is; 10 Free Apron Patterns!
10 Free Apron Patterns
1. This cute Easy Apron by Polkanuts is something I think I could even handle. It is made from just a couple strips of fabric and a couple tea towels. Very nice!
2. Amy Hearts It has come up with a very nice and girly Fuchsia Dots Apron that is not only functional but also very fashionable. I just love it! It seems simple enough as well. You could change up the pattern to match anything you like!
3. If you have collected some pretty fat quarters you don't know what to do with, this sew4home's Garden Party Apron made with fat quarters is the perfect project to use them!
4. Aprons get messy quickly and Some of This and That has the perfect solution: a DIY Reversible Apron that is quick and easy to make.
5. One of my favorites that I came across was this Gathering Apron by Reformation Acres. It features ties so you can place your harvest of even chicken feed in it when you go outside to get work done. So creative and very nice!
6. Sew 4 Home always has some great patterns and this apron, entitled "Mom's Favorite Apron" is no exception! It features unique buckle straps so it has a great look and feel.
7. This cute Free Apron Sewing Pattern from DIY Crush only takes one hour to make!
8. Have a lot of scraps lying around? Life Sew Savory has a free Scrappy Apron Pattern that is designed to use up scraps!
9. I have never seen anything so great as I have when I saw this pattern for a Cleaning Apron from Organized Home! It has lots of pockets and even places for cleaning solution spray bottles to hang off of! How cool!
10. Carrying on the repurposing/upcycling vibe, Mad About Pink has a tutorial to show you how to turn an old scarf into an apron. She says this pattern is even great for beginners!
What is your favorite? I had no idea there were so many types of aprons out there!
More Free Sewing Patterns