It can be hard to find patterns for sewing clothes. Here are 10 free sewing patterns for boys to make it easier!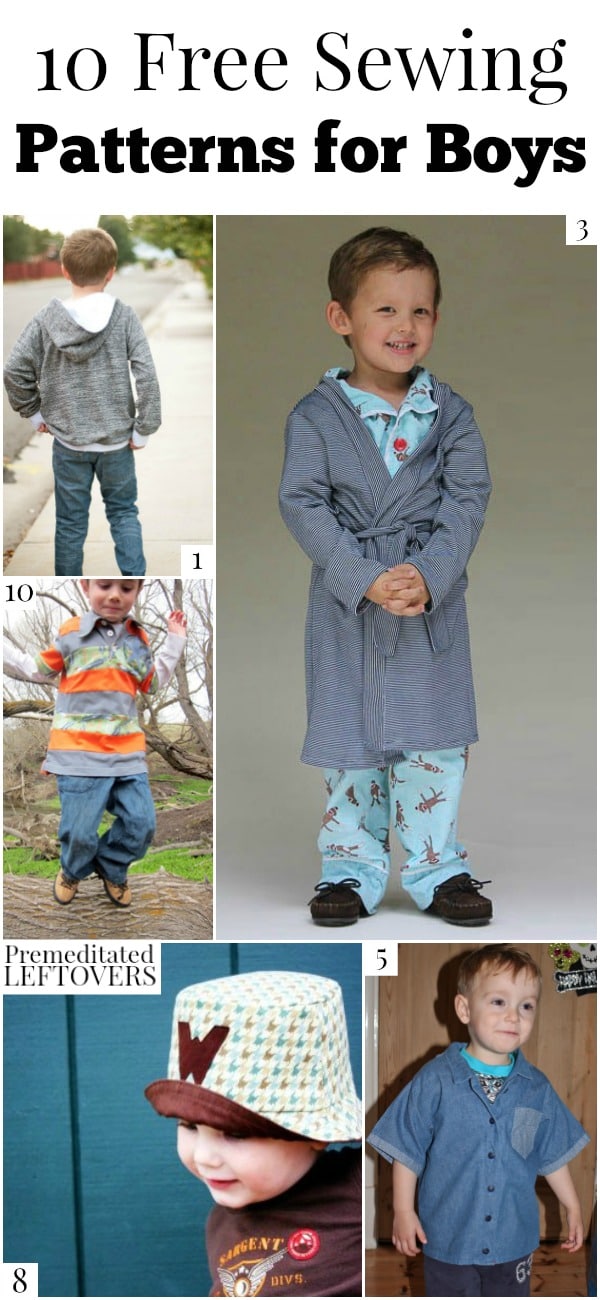 From reading other blogs and seeing comments online, I quickly realized that there are many sewing fans out there that want to sew things for their sons just like they are able to make things for their daughters. The problem is, there are simply more readily available girl's clothing patterns out there. If you are looking for sewing patterns for your son, it can be hard to pick through and find them, so I decided that I would make it a bit easier with these free sewing patterns for boys.
10 Free Sewing Patterns for Boys
1. Most boys live in hoodies, so this free Hooded Sweatshirt Pattern from Shwin and Shwin is perfect for anyone wanting to sew something for their boys.
2. This cute Bitty Boxer Briefs pattern from Sew a Straight line is just the cutest! I love that it uses old T-Shirts to make them, too.
3. The Sleepy Robe from Melly Sews is so cute and would be perfect to make for all the boys in your life. Every little man needs his own robe.
4. There are so many boring ties out there, but you can make your own perfect tie for your son with these Totally Terrific Ties from Sew Fishsticks.
5. I love little button-down shirts on little boys and this toddler-sized Western-Style Shirt from Barny Beetroot is totally handsome.
6. These Boardshorts from Sew Can She are perfect for every summer day. Make a couple pairs!
7. These Mesh Pants from Life Sew Savory look super comfortable and perfect for active play. The pattern is available in boys sizes 2-10.
8. Bucket hats are so awesome for little boys for keeping the sun off on warm days and they are a classic look, too. Here is a free Toddler Bucket Hat Pattern from Sew Much Ado.
9. Handmade Frenzy features an entire outfit that is for boys called "Summertime Cool". It features a tank, shorts and a vest pattern.
10. Another great project from Sew a Straight Line is these Scrappy Polos. They use whatever scraps you have lying around to make an awesome shirt!
Bonus: This set of Vintage Inspired Suspender shorts for babies are the absolute cutest, don't you think? Check them out on Crafting Zuzzy.
More Free Sewing Patterns for Kids:
10 Free Shirt Patterns for Girls
10 Free Shorts Patterns for Kids
10 Free Sundress Patterns for Girls