You don't have to skip entertainment when you are on a tight budget. Instead, have more fun while spending less with these 10 ways to save on entertainment!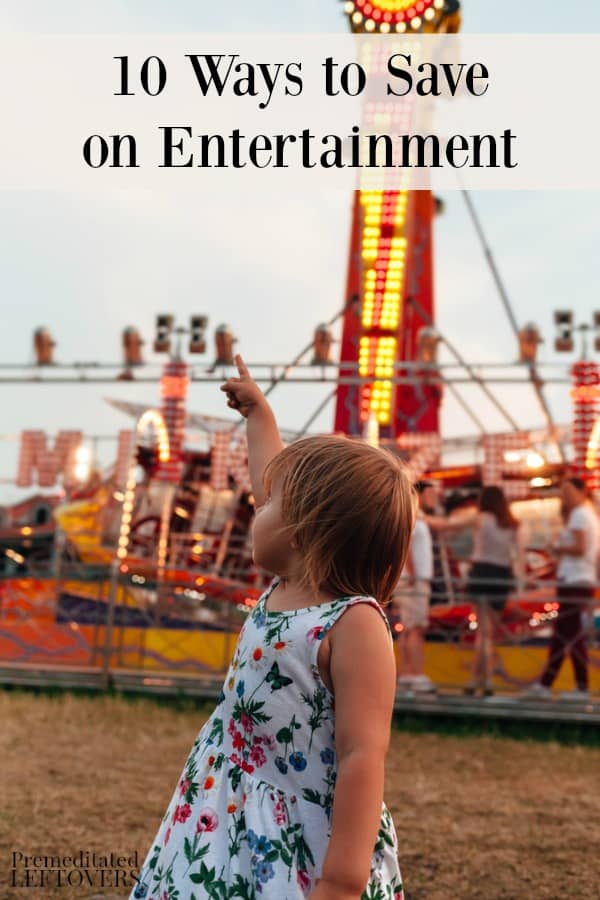 When living a frugal lifestyle, one of the things to go first is often expensive entertainment. It doesn't have to be that way! You can still have a blast with very little cash. These frugal tips will show you 10 Ways to Save on Entertainment.
10 Ways to Save on Entertainment
1. Look for discounts you may qualify for. Common discounts are based on military, age (seniors discounts), student status, and income. You may get to snag free memberships to museums, discounted movie and play tickets, and free days at the amusement parks you enjoy.
2. Look for volunteer opportunities. You may be able to get in free to that venues' concerts and events just by volunteering to help with ticket sales or clean-up. My daughter has attended symphonies for free by volunteering to help soloist when they are signing autographs. Not only was her ticket covered she got to spend one-on-one time with renowned musicians.
3. Sign up for emails through the radio station in the area. Often times, there are giveaways for loyal listeners that include free concert tickets and even meals.
4. Invest in local entertainment coupon books. These are often less than $20 and can get you into events for free or BOGO (buy one, get one). Sometimes they offer 50% off on dining out as well. Trust me, they pay for themselves after just 1 or 2 uses. Not only can you save on entertainment, but also oil changes, salon sessions, and even carpet cleanings. You can often purchase these coupon books through local schools and retailers.
5. Follow your local Chamber of Commerce on Facebook. This is a great way to get involved in community togetherness. They sometimes even promote free concerts and freebies!
6. Attend practice runs of plays and other productions. The tickets are usually a tad cheaper or free and by the time they do the practice run, they are pretty much ready for the "real" show.
7. Check out your local library for free movie rentals. You can also check out the latest issues of your favorite magazines so you don't have to pay for the subscriptions or at the newsstand. Some libraries have game nights, movie nights, book clubs, free classes, and free concerts. Regularly check your library to see what they are offering.
8. Check your benefits for various membership clubs such as AAA. You may be able to get into hotels for cheaper and earn great discounts on other entertainment.
9. Sign up for free tickets to tapings of TV shows if you live in a big city. You can also use these tips to get free tickets to movie screenings.
10. Visit area museums on their free day. Most museums have one day of the month where they are open to the public for free. Mark your calendar and visit museums on days where there is no cover charge.
11. Visit state and national parks on their free weekends. Most states and national parks have at least one weekend a year where you can visit for free. Ask a park ranger for details and plan your trip for that weekend.
Bonus Tip
Ask your local food bank about special events.  Food banks and organizations they work with may have information on upcoming events. Many times, for the price of a non-perishable food item you can get into fun events for the whole family or at least a great discount. In our area, we have been able to go ice-skating for free by donating canned food.
More Frugal Entertainment Ideas:
10 Free Date Night Ideas for Spring and Summer
How to Go to the Movies for Free
10 Tips for Throwing the Perfect Picnic for Pennies