Lisa is sharing how she plans a frugal date night and resources for saving money on date night.
I don't know about you, but I'm always looking for fun ways to have a cheap frugal date night. Even though it's night to go out to Olive Garden for dinner, and a movie for two at the local theater, but that amounts to almost $100 spent before we even hit up the vendor for some popcorn! Yikes! So, for those date nights where we need to be a bit more frugal minded, below I've shared what we usually do to save money.
How to Plan a Frugal Date Night
Using Restaurant.com
Gift Certificates for Dinner
One way we save money on dinner is by purchasing certificates at Restaurant.com
. They always offer some sort of promotion where we can pay ridiculously low for a gift certificate, like a $25 voucher for only $4-$10. And, you can print off your certificate right after you purchase. Just keep in mind that every restaurant has their own set of fine print, or even a minimum purchase requirement, so make sure to read what they are before purchasing. So, you may need to spend at least $30 to use the $25 certificate, but it still saves you money in the end considering you paid very little for it to begin with. Here are more Ways to Save Money on a Dinner Date.
Taking Advantage of Fandango Promotions
Every now and then, Fandango, a website where you can purchase movie tickets, has awesome deals like buy one get one free movie tickets, and more! Plus, they have a portion on their website where you can score a FREE movie ticket by completing an offer. The offer could be anything from signing up for a free trial of something to making a purchase of some kind. My boyfriend and I were able to each score a free movie ticket this way. All we had to pay for was gas to the local theater.
Staying in and Watching Movies
Another way to have a frugal date night is just by staying in – and renting movies online OR at the kiosk! This one seems like a no brainer, but sometimes it's good to remind people of this simple option. You can always find FREE Redbox Rental Codes online. Or, you can sign up for a FREE 30 day trial of Netflix or a FREE 30 day trial of Redbox Instant. Each come with unlimited streaming of movies and TV shows. Hungry for pizza? Well see if Pizza Hut, Papa Johns, or Dominos has any special promotions going on.
Go Do Something Different
Head on over to Groupon
, LivingSocial
, or AmazonLocal.com, and look to see what's going on in your area! I found a voucher where my boyfriend and I could both save money on bowling, or even go play laser tag! Both are things we've never done together and they sound like lots of fun!
Go Out and Have Some Coffee

Coffee is something my boyfriend and I love! And I know that Dunkin Donuts offers a FREE medium beverage of choice coupon when you sign up for Dunkin' Up Dates newsletter. So, if we just want to chill out and catch up, we can both go get some free coffee. I also keep my eyes open when Starbucks has their offers available. I especially love it when they offer a buy one get one free offer, which they typically do offer in the Fall and Winter season.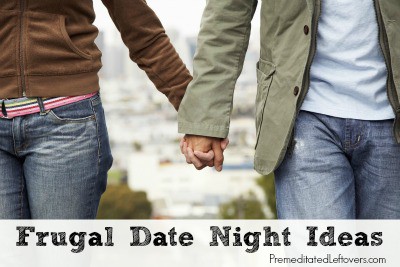 Seasonal Frugal Date Ideas
10 Valentine's Date Ideas for Under $20
10 Free Spring & Summer Date Ideas
There are many more ways to enjoy a frugal free date night, without spending all the extra money. How do you save money and still have a date night?
Thanks Lisa!