Be sure to enjoy your sweet, juicy strawberries before they go bad. These 10 Ways to Use Strawberries Before They Turn include delicious and fun ideas!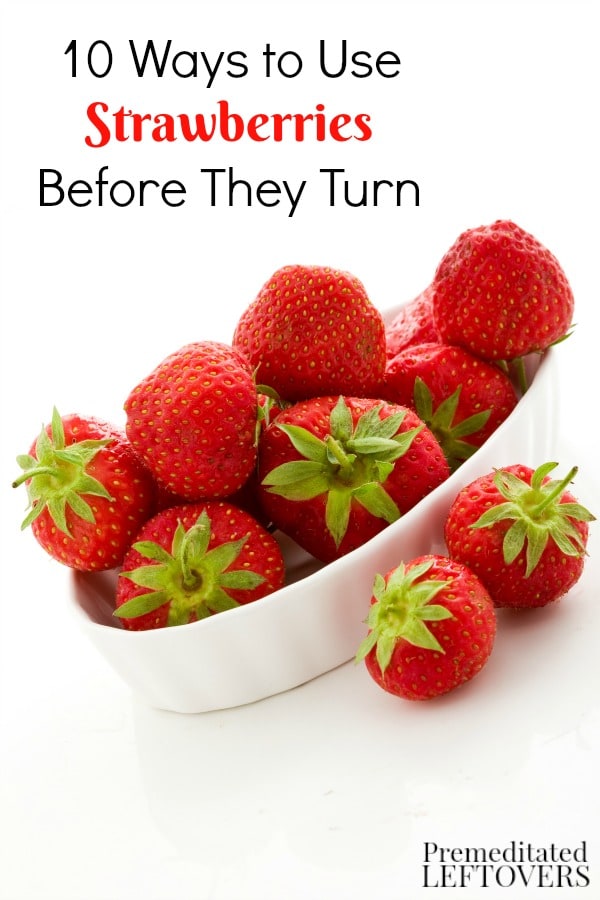 Strawberries are rich in vitamins and minerals, and can not only be great for your insides but outside as well. If you are finding yourself drowning in strawberries this summer season, take a peek below at 10 Ways to Use Strawberries Before They Turn. These uses are so fun and easy, and a great way to use up your strawberries before they go bad. Take a look!
10 Ways to Use Strawberries Before They Turn
1. DIY Strawberry Face Scrub
This face scrub smells great and is gentle on skin. Simply mash a few strawberries with a teaspoon of brown or white sugar. You can also add in some organic honey if you wish. Apply gently to your face avoiding the eye area and rinse after a few minutes. The strawberry will nourish, the sugar will scrub, and the honey will soothe your skin.
2. Strawberry Chicken Salad
Make a salad that is sweet and savory when you add chicken and strawberry. On a bed of greens add sliced, grilled chicken, then top with sliced strawberries. Use ,vinaigrette to finish the salad off and sprinkle with almonds. So tasty! If you wish, you can even try adding diced strawberries to your chicken salad mixture. Just add a can of chicken, cup of mayo, some chopped celery, and mix well. Toss in your strawberries to finish and serve on toasted bread or a croissant.
3.  Infused Ice Water
In a pitcher, add water, ice, and mint leaves. Add whole or sliced strawberries and allow the water to sit overnight. The end result is infused water that is tasty and full of vitamins and minerals! This is a great beverage idea to try for showers and parties as well.
4.  Have some fondue fun.
Make your own fondue when you dip strawberries in chocolate or marshmallow sauce. You can even roll strawberries in colored sugar if you wish, or try flaky coconut or crushed nuts. Just place the strawberries on a fondue stick and dip. This is a fun dessert idea and great for parties!
5. Make frozen strawberry treats.
Dip strawberries in yogurt and place in the freezer until solid. Cut in half and use to decorate desserts or just eat as a snack. This is a simple recipe for kids to try and perfect for a summer day! If you want, try various yogurt flavors so you have a variety.
6. Try a super smoothie.
In a blender mix strawberries, a little ice, honey, a banana, and some nutrient greens of your choice. Kale, spinach, and swiss chard are all great ideas. The end result is a super smoothie sure to leave you feeling great! The strawberries do a great job at masking the taste of the greens and are superb for your skin.
7. Make your own trail mix.
Chop some strawberries and place them in a food dehydrator. Mix the finished product with coconut, sunflower seeds, and chocolate chips. Place in an air tight bag and enjoy your own trail mix on your camping and hiking adventures.
8. Add them to your s'mores.
Speaking of camping, be sure to take plenty of strawberries with you to top your s'mores with. Slice strawberries thinly and place them right on the sandwich. Don't be afraid to grill strawberries if you wish. Some people really like the sweet and smoky flavor that lightly roasting a strawberry offers.
9. Get crafty and make strawberry people.
Let kids get silly with their food when you make strawberry people. Use colorful toothpicks and poke them into the fruit to create arms and legs. Frosting and small candy bits make great facial features and pull apart licorice makes great hair. Get creative using the strawberry as the body of the person and see what you can create.
10. Make your own strawberry chips.
Place strawberry slices in a dehydrator and create your own sweet chips. You can even sprinkle them with granulated sugar or sea salt when done. These are great for snacking, dipping, decorating desserts, or tossing into drinks. These dried chips have so many uses!
Give these ten uses for strawberries a try and you will be able to put all of those berries to great use! How many other uses can you think of?
More Tips for Using Fresh Produce:
10 Ways to Use Strawberries Before They Go Bad
Freezing Fresh Produce & Tips for Freezing Fruits, Vegetables, & Herbs
7 Things To Do With Excess Garden Produce
How to Make Your Produce Last Longer
Naturally Frugal Tip: Make Your Own Produce Wash
Use ALL of the Edible Parts of Your Produce