David shares this craft upcycling corks in this cork napkin ring tutorial.
I love a good craft and my collection of napkin rings is never-ending. Some of my favorite crafts are those that can be done by nearly any skill-level and are quick to do and produce awesome results. These DIY cork napkin rings would be perfect for a wine tasting at your home or to give to a friend or family member that is a wine fanatic.
DIY Cork Napkin Rings Tutorial
Materials:
5 Real wine corks (non-syntethic)
5 Glass Beads (1 MM Opening, this is traditional)
1 straight edge blade (I used a box cutter)
14" of 26 Gauge wire (I used silver color)
1 pair of small wire cutters
Directions:
With a straight razor, cut off the tip of the wine cork. This is approximately 1/7th of the cork (or 1/5").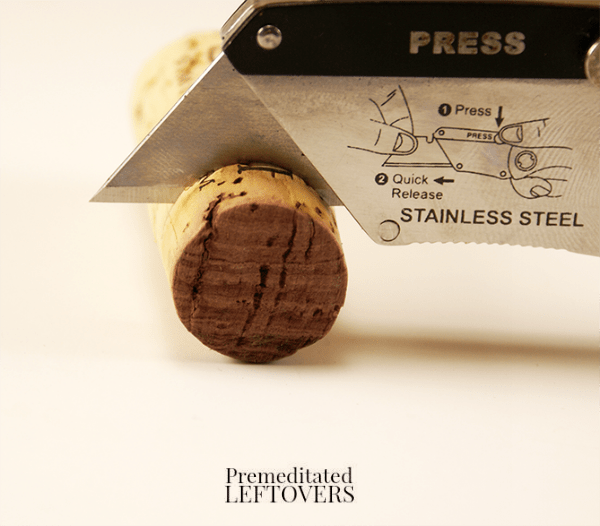 With the piece of cork you cut off, guide the cork around the edge of the blade by rotating it around the blade. You want at least a 1 millimeter cut into the cork.
Bend your wire in half, and make a loop at the end of it.
In keeping everything centered, place the first piece of wine cork that you've cut into the base of the loop, and then guide and embed the wire into your cut around the cork. Where the 2 wires meet at the end of the middle of the bottom of the cork, pull tight and give it 2 small twists to help keep it in place.
Slide on your first glass bead onto the wires and flush against the cork. Give the wires 2 more small twists before adding on the piece of cork, and after the glass bead. You will work in this pattern until you reach the end.
You will finish the cork as your last piece. Make sure you have added your two small twists at the end. Pull the wires through your initial loop and pull tightly.
Wrap the end pieces around the wire loop and then cut the ends of the wires off and push press the wire ends together to create a smooth surface.
And you're done!
More DIY projects
No Sew Dish Towel Apron Tutorial
How to Make a Mason Jar Soap Dispenser
David is a Blogger, Knitter, Social Media Manager, Puppy lover, Hug Giver, Heart Healer, Family Loving, God loving, Couponing maniac kinda guy. You can find him sharing recipes, deals, and DIY projects at Food 'n Service and you can connect with him on Facebook or Pinterest.