Use this tutorial to make a DIY Dried Fruit Garland.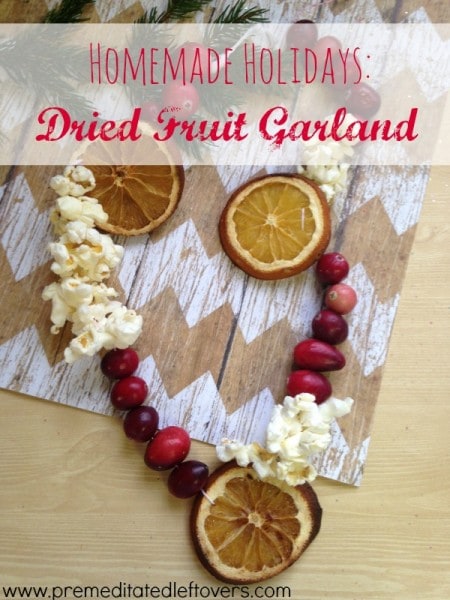 Making your own dried fruit garland just like early settlers used is a fun and frugal way to decorate your home for the holidays. Not only does a dried fruit garland smell great, but it is easy to make and even easier to enjoy. Take a peek below at how to craft your own DIY dried fruit garland, perfect for displaying this holiday season. It is sure to give your home a homemade and rustic look that is so cozy and inviting!
DIY Dried Fruit Garland
Supplies needed:
Sewing needle and thread
1 medium-sized orange
1 cup of cranberries
1 cup of plain popcorn

Plain popcorn is suggested since you don't want something with a lot of grease or butter. Microwave popcorn is perfect for this if you want to move the craft along a little quicker.
Directions:
1. Begin by drying your oranges. Slice them thick and place them directly on your oven grate for about 30 minutes at 275 degrees. Remove and allow them to cool.
2. Cranberries can be dried the same way except on a cookie sheet, or, you can let them air dry. We just let ours sit out on a towel for a few days near a sunny window. They dried naturally and still kept their round shape nicely.
3. Prepare your popcorn, and now you are ready to start stringing!
4. Attach your needle and thread together. Begin by stringing 5 cranberries (more if you wish) through the needle.

5. Add a dried orange slice. Just sew directly across the top of the orange and make a stitch to be sure it stays put.
6. Finish the pattern with a few pieces of popcorn. Take caution with this step as the popcorn crumbles easily. Once you have added the popcorn, you can then start the pattern over.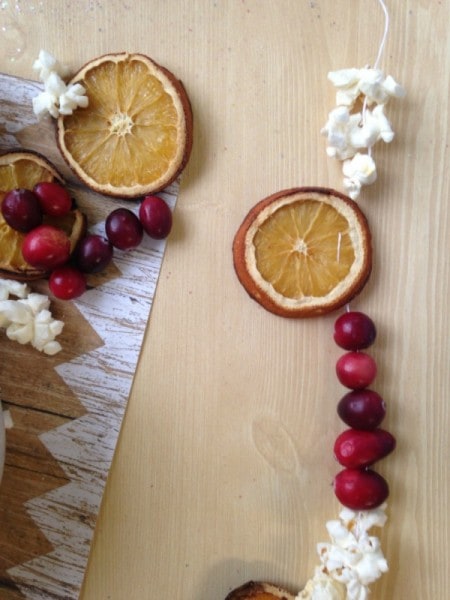 7. Continue adding the dried oranges, cranberries, and popcorn until the garland is the length of your choice. Feel free to change the pattern up as you wish so it reflects your style and tastes.
When your garland is complete, knot the ends of the thread. You can now display it on a tree, on a mantel, or even on a wall or bookshelf. It is such a fun and natural way to get into the holiday season!
Gather your supplies and give this DIY dried fruit garland a try. It looks just like something they would have enjoyed on Little House on the Prairie or days gone by.

More DIY Christmas Decorations
DIY Canning Jar Lid Wreath Ornament
10 DIY Christmas Porch Decorating Ideas