Have an old book that you don't know what to do with? Use it to create this easy DIY Succulents Book Planter!
I have seen quite a few examples of succulents being planted in books, and I love the whimsy it can add to a space. Sadly, I can tell you from experience that most live succulents aren't cut out to thrive in such a planter. So instead, I looked for some alternatives. Using faux succulents from my local dollar store I was able to recreate the look not only for less, but knowing that these are succulents I will never have to worry about dying. Here is how to craft a DIY Succulents Book Planter of your own, no watering required!
DIY Succulents Book Planter
Materials:
old book
an assortment of fake succulents
scissors
hot glue/hot glue gun
knife
Check out your local thrift or dollar store for an inexpensive book. It doesn't matter if the book is perfect since you will be cutting it anyway. You can also find these succulents and more at your local Dollar Tree!
Instructions:
1. Begin by opening the book in the center. This way, there is enough weight on each side for the book to stay open and display the succulents.
2. Trace a rectangle on the center page. This is where you will begin cutting out the planter shape.
3. Once the shape is defined, you can start removing the pages. Continue to saw and cut through the pages so an indent is made. Cut through several pages at a time, staying in the triangle shape. Don't rush, just chip away a few pages at a time until the depth is that of about 3/4 inch.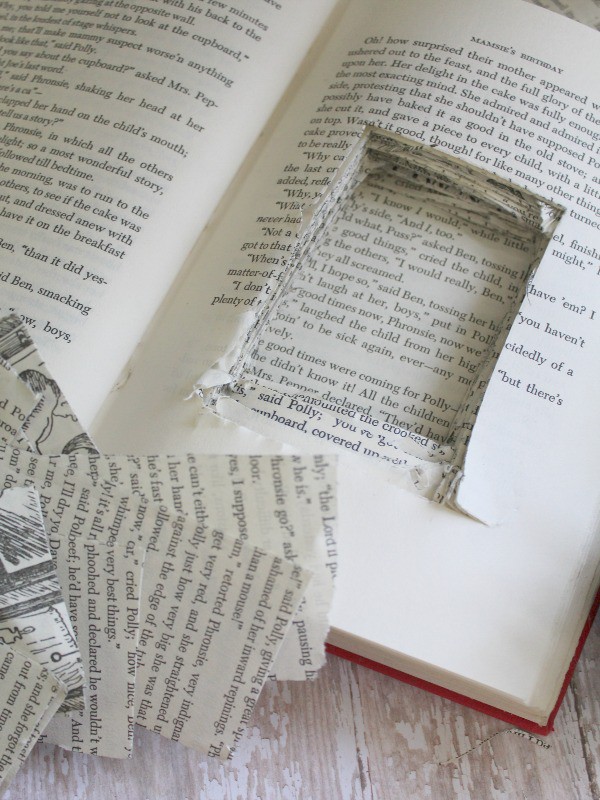 4. Remove the pages and clean out the planter space. It is best to do a few at a time.
5. Snip the stems off the succulents so they can rest in the shallow planting area. Add a generous amount of glue to the bottoms and start pressing them into the planter.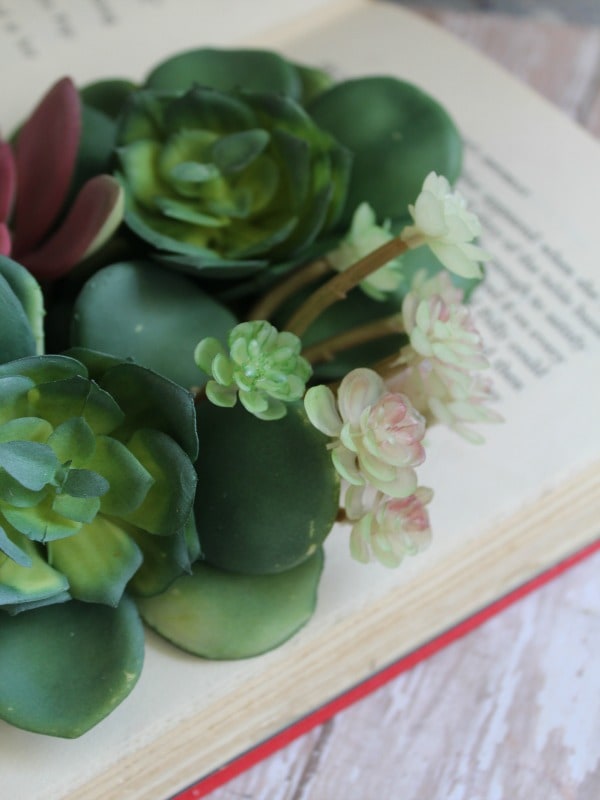 Since you are using fake succulents, feel free to pack them in nice and tight! You don't need to worry about overcrowding them or not giving them enough room to grow. Add as many succulents as you wish and create any arrangement you want.
You now have a gorgeous succulents book planter that looks just like the real ones, but doesn't run the risk of drying out or dying. They can be enjoyed without maintenance, which is surely a plus!
Give this easy DIY Succulent Book Planter tutorial a try. And should you feel inspired to do more with succulents, head over to The Homespun Hydrangea where I am showing readers how to make an Easy Succulent Wreath and Vertical Succulent Garden.
More DIY Frugal Home Decor: