Pool noodles can be used for so much more than playing in pools. Below are three frugal uses for pool noodles including a drink marker, straw toppers, and flower pot filler.
For the projects listed below you will need an assortment of pool noodles. You can use plain tube noodles as well as the ribbed one that give you a flower look. You should be able to find both types of pool noodles at your local dollar store.
Cutting Tip: When cutting the pool noodles as instructed below, it is best to use a knife.
Frugal Uses for Pool Noodles
Pool Noodle Drink Marker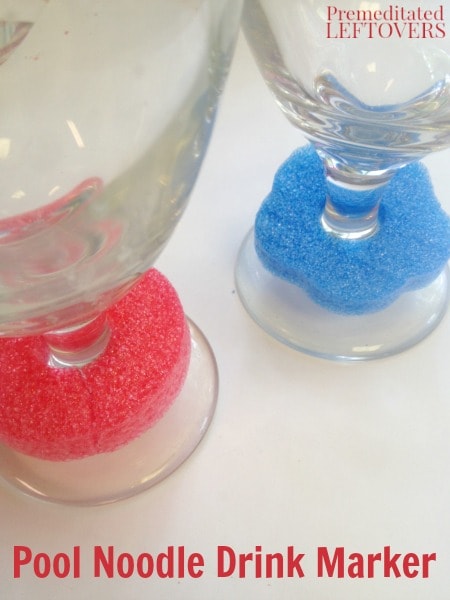 Never get your beverages confused again when you make these pool noodle drink markers. Cut ¼ inch cuts of pool noodle and create an additional cut to the segment so you can wrap it around the stem of your glass. Give each person a different color so everyone knows which drink is theirs. These are perfect for a pool party!
Pool Noodle Straw Toppers

Add some fun and festiveness to your party when you create these pool noodle straw toppers. Create yours by cutting ½ inch segments of pool noodles. Use a pencil to create holes in the segment. Then, slide your straw into the holes until they come out of the other end. Slide the pool noodle into place on the straw and you are ready for use. These add some color to your beverage and are a great way to use up pool noodle cuttings you may have left from other crafts.
Pool Noodle Pot Filler

If you are planting flowers in a large flower pot, it may be pricey to fill it all with soil. Provide some drainage for the plant as well as save money when you had pool noodles as pot filler instead. All you need to do is take your scraps (you will have plenty after doing all of these crafts!) and chop them up into small bits. Place them in your pot or planter then fill with dirt and plant flowers as usual. They work great for this and are sure to provide drainage as well as save you money!
Who knew pool noodles could be so practical? Try these uses for pool noodles and see how you can put them to work for you.
More Uses for Pool Noodles
Pool Noodle Obstacle Course for Kids