Reduce your stress with these organization and planning tips for Thanksgiving dinner.

A few days ago, I shared my Thanksgiving dinner menu. Making my menu early allows me time to find the best deals on the ingredients I will be using to make the meal. I don't just plan my Thanksgiving menu plan early, I also start organizing for the party early too. The most important ingredient in a successful dinner party is a relaxed hostess. Planning ahead allows me to be more relaxed ensuring happier guests. You can use this free printable Thanksgiving planner to help you organize and plan your celebration.
Planning Tips for Thanksgiving Day
I break up all of the Thanksgiving preparation up over several weeks so that I am not overwhelmed at the last minute with trying to balance all the cooking, cleaning, and decorating. Starting 3 weeks early may seem crazy, but starting early guarantees that our Thanksgiving is a relaxing day where we can focus on family and friends.
3 Weeks Before Thanksgiving:
Several weeks before Thanksgiving, I walk through the house with the eyes of a visitor looking for all the clutter that I have become blind to and begin decluttering.
I also look for items that need to be replaced such as bathroom towels that have become frayed or a gravy boat that a child dropped. Doing this in advance means I don't have to run to the mall at the last minute.
I keep my table decor simple. I will find my fall tablecloth and napkins, check to make sure I have candles, and clean the candle holders.
2 Weeks Before Thanksgiving:
Two weeks before Thanksgiving, I clean out and organize the pantry. This allows me to remove food that is expired and learn exactly what I have on hand, so I make a thorough shopping list for the holiday weekend.
I also like to clean out and organize my freezer, so I am sure to have room for freezing leftover turkey, the homemade broth I make with the turkey bones, and any extra Thanksgiving leftovers.
A Week Before Thanksgiving:
A week before Thanksgiving, I will deep clean my house, so all I have to do is light touch-ups the day before Thanksgiving.
I clean out the refrigerator and organize it. This ensures I have plenty of space to work with.
Order flowers or make a plan for creating my own Thanksgiving Centerpiece.
I double-check my menu plan to see what ingredients I still need to buy.
2-6 Days Prior to Thanksgiving
If my turkey is frozen, I check the chart below for the weight and then pull it out of the freezer on the appropriate date and place it in the refrigerator to thaw.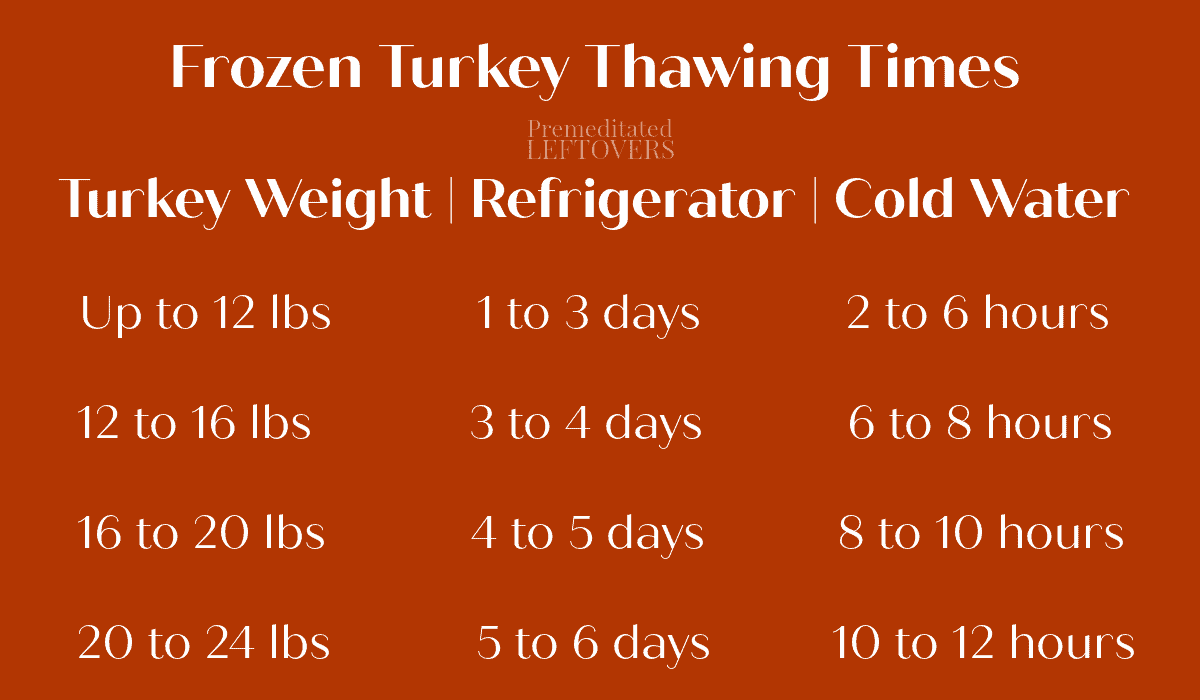 2 days Prior to Thanksgiving:
I check the crystal for water spots and clean the silver.
I also iron the tablecloth if necessary and make sure I have enough matching napkins.
I do one last check to make sure I have absolutely every ingredient that I will need.

The Day Before Thanksgiving:
I set the table, placing the glasses and plates upside down, so they don't collect dust.
I pull out all the serving dishes and serving spoons that will be needed and set them on the buffet.
I make the Corn Casserole, Cranberry Orange Sauce, Chocolate Pecan Pie, and Pumpkin Pie the day before. Then I just have to reheat the casserole and pumpkin pie on Thanksgiving day.
I make the croutons and cook the rice for the Wild Rice Stuffing. Then it can be easily assembled on Thanksgiving morning.
I make fudge and assemble a veggie tray.
Place water, sparkling cider, and white wine in the refrigerator to chill.
On the Morning of Thanksgiving:
I place the turkey in the oven.
I bake the wild rice stuffing in a casserole dish rather than in the turkey, so our vegetarian guests can eat it, but also because the turkey cooks faster with an empty cavity. I assemble it in the morning, place it in the refrigerator, and bake it just before dinner.
I make the mashed potatoes and keep them warm in a crockpot. Here are more tips for making perfect mashed potatoes.
I make sure the dishwasher is emptied very early in the morning, so I can add dirty dishes immediately. This keeps the kitchen looking tidy.
I probably shouldn't admit this, but once the turkey is in the oven, I go to the early Black Friday sales if they have an awesome sale on Thanksgiving morning and they have a great deal on one of the gifts I plan on buying for one of the kids on my list. It always freaks my husband out, but I can do this and not mess up my cooking schedule because I started planning a week early.
Late Morning/Early Afternoon:
When I get home from shopping, I shower and dress in my party clothes. Put on an apron and prepare the last few items: Pumpkin Pie Spiced Sweet Potatoes, Green Beans with Garlic, and Vanilla Whipped Cream.
Get the coffee maker set up, so all I have to do is push start when it is time for dessert.
Then I take off my apron and allow myself a few minutes to relax as I prepare for guests to arrive. Guests usually arrive an hour before dinner is served, so I will invite people into the kitchen to chat while I do the last-minute items.
The Last Minute:
35 – 40 minutes before dinner is served I reheat the Corn Casserole and cook the Wild Rice Stuffing
Turn the glasses over. Fill water goblets with water and wine glasses with cider or wine.
The turkey usually comes out of the oven 15 minutes prior to dinner allowing me time to heat the rolls and make the gravy, while my husband slices the turkey and my children arrange the other dishes on the buffet.
Dessert:
We take a break between dinner and dessert providing me with time to reheat the pumpkin pie and make coffee.
Most important tip for a great Thanksgiving dinner: Don't stress!
Thanksgiving always involves a huge feast, there is no need to worry if a dish doesn't turn out as you hoped. I stick to tried and true recipes to help prevent epic fails on holidays, but things happen and we all have a disaster or two. Laugh at the disaster, take a picture, and share it because people love reading about epic failures. 🙂
There is not an official start time, so if your turkey is taking longer to cook, put out more appetizers. Or announce that you are serving the meal in "courses".
The parade and game will probably be on in the family room, but you can put on music that brings you joy while you are working in the kitchen. I have a gratitude playlist that I like to listen to.
Focus on your many blessings. A slightly dry turkey or lumpy mashed potatoes are pretty insignificant when you put it in perspective!
Free Printable Thanksgiving Planner
This Thanksgiving planner includes printables for everything you need to for planning your celebrations including brainstorming ideas, a Thanksgiving meal plan, a cleaning list, guest list, leftover recipe ideas, a fall bucket list, gratitude journal, and more! You can see more of the printables included here or print it out here.
More Thanksgiving Ideas and Tips

Do you have any tips for making your Thanksgiving feast preparations go a little smoother?