Do you have extra bandannas? Put them to use to decorate for the 4th of July! Just use this tutorial on how to make a Patriotic Red, White, and Blue Handkerchief Bunting using bandanas.

I love using inexpensive items to create eye-catching displays. Red, white, and blue handkerchiefs are perfect for creating a bunting to decorate a porch, doorway, or fence for the 4th of July. I think they make a pretty and simple statement to show your pride through colors.
Three handkerchiefs are enough to create a 10′ bunting after it was gathered up to swag it twice- for just $9 I was able to go all the way around the exposed sides of my porch. I found my handkerchiefs at Hobby Lobby for $.99 but they can be found at any hobby or craft store.
DIY Patriotic Bunting Using Bandanas
Items Needed:
All you need for 10′ of bunting is 3 handkerchiefs (or bandannas), a pair of scissors, and some string or tacks to secure it.
Directions:
Begin folding your handkerchief in half, and then in half again.
Cut into 4 equal squares
Now fold each square over from one corner to the other to create a triangle.
Knot each corner together, alternating-red, white, blue. Repeat to create your desired length.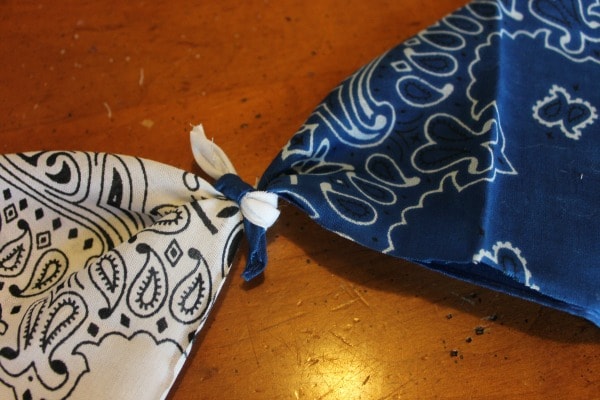 Then hang your bunting on your porch, patio, fence, or where ever you need a bit of red, white, and blue!
You can use your patriotic bunting for Memorial Day, The 4th of July, or any other patriotic celebration.
More DIY Patriotic Ideas
Frugal Patriotic Table Decor Ideas
10 Patriotic Dessert & Snack Recipes