Going keto doesn't have to be expensive. Check out these tips for eating keto on a budget to find out how to save on keto food.
If you are ready to dive into the keto craze you may be wondering how you can do it without breaking the bank. Luckily, the keto diet doesn't require any special expensive ingredients or specialty foods. Keeping a couple things in mind will keep your keto budget low and your chances of success high – the sweet spot!
Tips for Eating Keto on a Budget
As with any diet, shopping the perimeter of the store and cooking from scratch using real food are going to help you save money. However there are a few ways to make this process easier. Read on for my 5 favorite tips for eating keto on a budget.
1. Make a plan.
Planning your meals is the best way to save money on any diet. First shop your freezer and pantry, so you know what you have on hand. This prevents you from buying duplicates. Then look at the sales at your favorite grocery stores. Are there any keto-friendly foods on sale? Based on what you have on hand and what is on sale at your store, make a menu for the week. Base your grocery list on this menu. Be sure to plan out your breakfast, lunch, dinner, and even snacks. Planning out your meals will help you avoid impulse shopping and help you resist the temptation to eat out (that gets to be expensive!). Here is a Printable 1 – Week Keto Meal Plan to help you get started with meal planning.
2. Have a weekly food prep day.
Pick a day of the week that works for you and spend a few hours prepping food and snacks. It's worth a little extra effort to have easy meals prepped ahead of time. Stock up on freezer and heat safe containers and freezer bags. Boil a dozen eggs, bake a dozen egg muffins for the freezer, prepackaged meat, and cheese in baggies, make up a batch of keto bagels, precook chicken, beef, etc… and place it in containers in the fridge and freezer to grab and go.
3. Avoid pre-packaged food.
Pre-packaged meals and snacks are convenient, but they are more expensive and generally less healthy than homemade meals. Some items like pickles and beef jerky are staples of the Keto diet and are worth the "splurge". However, you can make most keto staples for a fraction of the cost at home. Some keto foods you can prepare easily at home are boiled eggs, nut butters, shredded cheese, salad dressing, "keto bread", and fat bombs.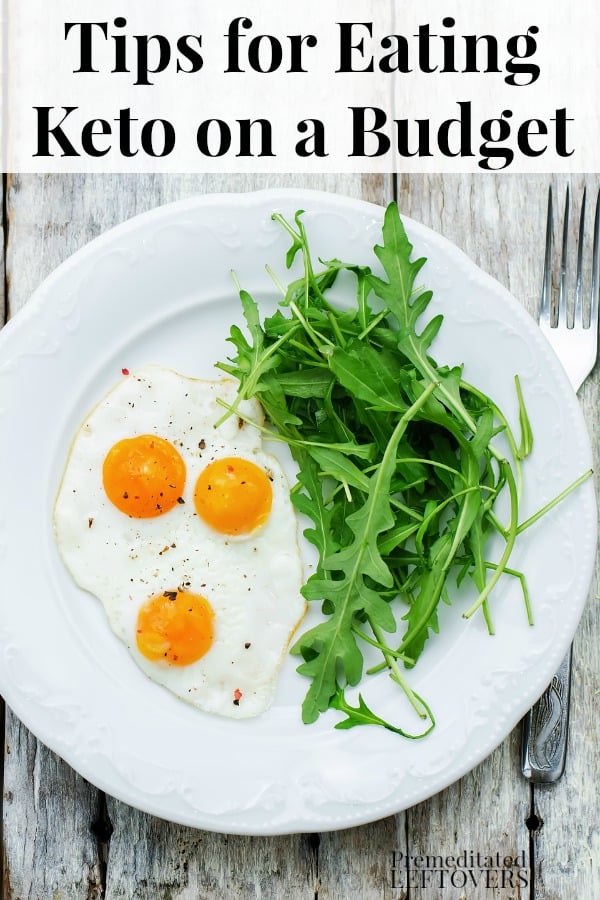 4. Stock up on keto basics.
Keto is low carb, high healthy fat, and moderate protein. Keep some basic ingredients on hand and use Keto compliant condiments and spices to give you variety. When keto diet foods are on sale stock up on them. Many keto foods can be frozen or have a long shelf life. Here are my favorite keto staples to keep on hand:
Eggs
Coconut oil
Beef
Chicken
Avocados
Cheese
Butter
Frozen low-carb veggies like asparagus, broccoli, and green beans
Fresh spinach
Heart-healthy nuts like almonds and walnuts
Cream cheese
Heavy cream
Pickles
Beef jerky
These 15 items can be made in a huge variety of delicious dishes from breakfast to dinner and every snack in between. Cream cheese and heavy cream can even be turned into a dessert by simply adding some unsweetened cocoa powder, cinnamon, or extracts. Here is a Printable Keto Diet Food List to make it easier to remember what you can have.
5. Stick with water. Drink water instead of other beverages. If you need a treat, sparkling flavored unsweetened water for is a great substitute for soda and juice. Diet sodas may technically fit into the keto diet, but the artificial sweeteners are not good for you and they are expensive. Need something with a little more substance? Add flavoring extracts and low carb berries to your water for a little punch of flavor.
Keto on my friends, but do it with a carefully premeditated budget!
More Keto Diet Tips and Recipes:
How to Get Started on a Ketogenic Diet
7 Keto Diet Tips for Beginners
Printable 1 – Week Keto Meal Plan