You need this great Printable Keto Diet Food List for your first few grocery trips after beginning the ketogenic diet. An easy reference that helps when in the grocery store is handy. You can quickly look on the list to see items you can have while still staying on a low carbohydrate keto diet.
How to Use the Printable Keto Diet Food List
As you begin your healthier lifestyle, you'll need to have a great cheat sheet like our printable keto diet food list on hand. This makes meal planning, grocery shopping, and even snacking easier to manage. Start by learning how to get started on a ketogenic diet, then come back here to print and use our tips for this food list.
Use as a reference to clean out your pantry
The first thing recommended when you begin a ketogenic diet is to make sure your pantry is clear from the offending food items. Removing temptation is a must for success. If you are someone who struggles to avoid sweets, breads, and carbs in general, then it is important to start out with a clean pantry, refrigerator, and freezer.
Grab your printable keto diet food list and take time to go shelf by shelf in your pantry to clear out items that aren't going to fit into the plan. You don't have to throw these items away. You may, however, want to donate them, or simply move them to an area of the pantry you aren't likely to reach for them. If you are cooking for your whole family, they may still be of use in your menu planning.
You may also benefit from our tips on how to clean a pantry when you begin this process. It will help you manage the clutter and feel more organized. This helps you stick to the plan longer!
Use as a quick guide when uncertain about a food
This is a great keto guide to print and drop into your purse or backpack and have on hand to reference. While not every keto friendly food is on this list, it is a great place to look for fast recommendations of things you can easily eat. Remember, however, that when you are eating out at a restaurant, a lot of things may be hidden in sauces. So, always ask ahead and skip any sauce or dressing you are uncertain about eating.
Use to help create meal plans
When I am struggling to come up with a good meal plan for the week, it is usually because I need new inspiration. We have some great keto recipes I will list below, but this printable keto diet food list is a great option. Just take a glance and look to see what all items are on the approved list and start putting them together to form a combination that is yummy. You can use this printable keto diet meal plan to create your menu plan.
Note: Keto is generally easy to follow because you limit only carbohydrates. That means a meal is often made of a protein source and vegetables. So, choosing meat and a vegetable for dinner takes away some of the complications.
Post on your refrigerator as a reminder
One of my favorite things to do with a printable is to grab my laminator and use it to keep them from getting ruined when out and about. For this printable keto diet food list, you can easily laminate and add it to the refrigerator with a magnet. This makes it super easy to keep it clean and have it in a handy spot so you'll always have a quick reference guide.
Printable Keto Diet Food List
Grab this simple printable keto diet food list to help you get on track. Figuring out meals, snacks, and your daily food intake is easier than ever when you have this handy guide. Print the Keto Diet Food List here.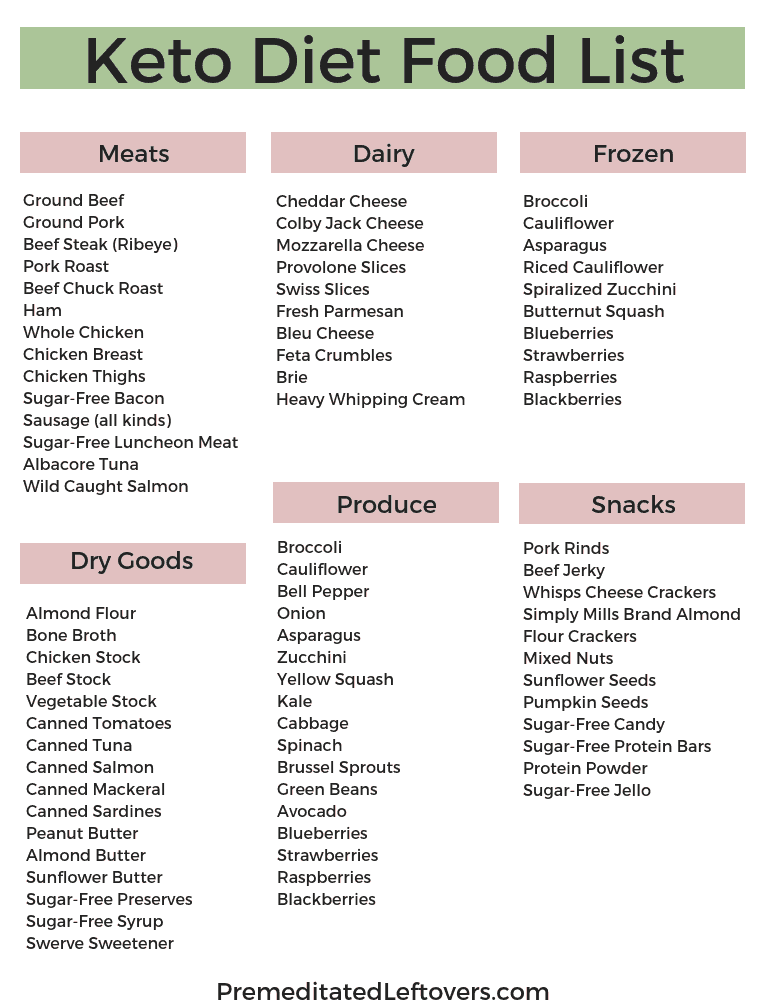 Great keto recipe ideas: