Have you used your Weight Watchers point for the day but are still hungry? Check out this list of Weight Watchers Zero Point Foods.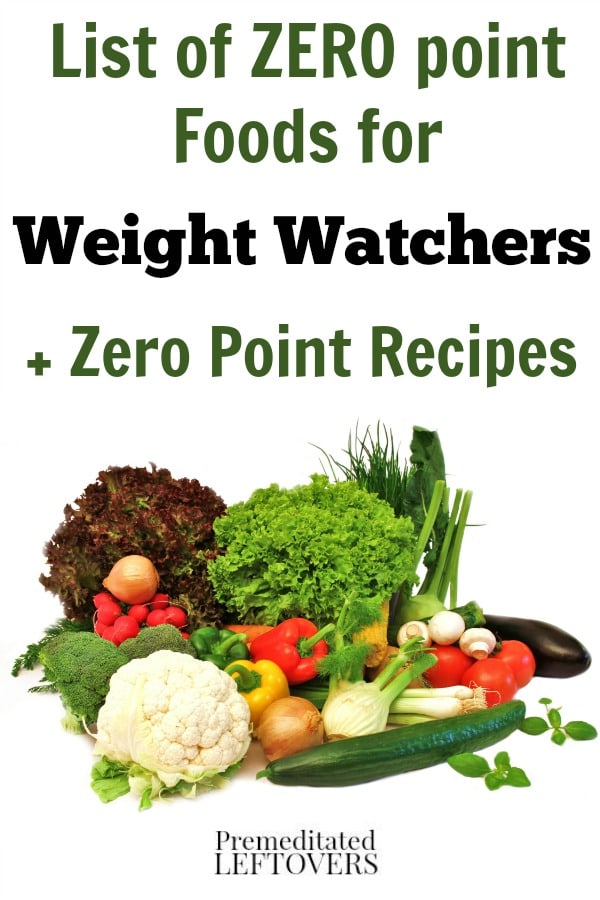 Weight Watchers is an easy diet plan to follow and many people like it due to how easy it is to adapt to their own lifestyle. The idea is you get a set amount of points per day and you create meals and snacks around those points rather than counting calories or eating a strict list of foods. One thing that is so great about the plan is there are many foods to eat that have absolutely zero points. You are free to eat them anytime.
There are even recipes that others have developed using these zero points WW foods as well. You can create meals and snacks that don't cut into your points allotted for the day. Here are some of the Weight Watchers Zero Point Foods as well as a few great recipes that are also zero points to help you plan your meals.
Weight Watchers Zero Point Foods
Zero-Point Vegetables:
Artichoke hearts
Artichokes
Arugula
Asparagus
Bamboo shoots
Banana
Beets
Broccoli
Broccoli rabe
Broccolini
Brussels sprouts
Cabbage, all varieties
Carrots
Cauliflower
Celery
Swiss chard
Collards
Corn
Cucumber
Daikon
Edamame
Eggplant
Endive, Escarole
Fennel
Greens: beet, collard, dandelion, kale, mustard, turnip
Hearts of palm
Jerusalem artichokes
Jicama
Kohlrabi
Leeks
Lettuce
Mushrooms
Nori Seaweed
Okra
Onions
Peas
Pumpkin
Radicchio
Radishes
Rutabagas
Scallions
Shallots
Spinach
Squash
Turnips
Watercress
Zero- Point Fruits:
Apples
Applesauce, unsweetened
Berries, mixed
Blackberries
Blueberries
Cantaloupe
Cherries
Clementine oranges
Cranberries
Dates, fresh
Dragon fruit
Figs
Fruit cocktail
Fruit cup, unsweetened
Grapefruit
Grapes
Guavas
Honeydew
Jackfruit
Kiwi
Kumquats
Lemon
Lime
lychees
Mangoes
Nectarine
Oranges
Papayas
Passion fruit
Peaches
Pears
Persimmons
Pineapple
Pluots
Plums
Pomegranates
Pummelo
Raspberries
Satsuma mandarin
Starfruit
Strawberries
Tangerine/Tangelo
Tomatillos
Tomatoes, all varieties , includimg unsweetened sauce, paste, puree
Watermelon
Zero-Point Proteins
Abalone
Beans, including adzuki, black, broad (fava), butter, cannellini, cranberry (Roman), green, garbanzo (chickpeas), great northern, kidney, lima, lupini, mung, navy, pink, small white, snap, soy, string, wax, white
Beans, refried, fat-free, canned
Calamari, grilled
Caviar
Chicken breast, ground, 98% fat-free
Chicken breast or tenderloin, skinless, boneless
Egg substitutes, Egg whites, whole eggs
Anchovies
Arctic char
Bluefish
Sea Bass
Butterfish
Carp
Catfish
Cod
Clams
Crab
Crayfish
Cuttlefish
Drum
Eel
Flounder
Grouper
Haddock
Halibut
Herring
Lobster
Mackerel
Mahimahi
Monkfish
Mussels
Octopus
Orange roughy
Oysters
Perch
Pike
Pollack
Pompano
Rainbow trout
Rockfish
Sablefish
Salmon (all varieties, Including smoked)
Sardines
Scallops
Smelt
Snapper
Shrimp
Squid
Striped bass
Striped mullet
Sturgeon (including smoked)
White sucker
Sunfish
Swordfish
Tilapia
Tilefish
Tuna (all varieties)
Turbot
Whitefish (including smoked)
Lentils
Black Eyed Peas
Tofu
Turkey, including lean turkey breast, smoked, boneless, skinless
Yogurt, unsweetened, including Greek and soy
Zero-Point Condiments/Flavorings:
Arrowroot
Anise
Garlic
Ginger root
Mung bean sprouts
Parsley
Pea shoots
Peppers, all varieties
Pepperoncini
Pickles, unsweetened
Pico de gallo
Pimientos
Salsa verde
Salsa, fat free
Sauerkraut
Sprouts
Water chestnuts
Zero-Point Weight Watchers Recipes:
This Weight Watchers Zero Points Taco Soup from Live the Life You Deserve is pretty great. Sounds like something the whole family would like.
I think these Zero Point Cauliflower Poppers from It All Started with Paint sound like a great snack choice.
Easy Healthy Asian Spaghetti Squash Salad from Simple Nourished Living is a wonderful side dish or main course.
This Weight Watchers Vegetable Soup from It All Started with Paint is another great way to enjoy soup and 0 points.
Try these Quick and Easy Apple Chips that have zero points as well for a snack by Picture Perfect Plating.
If you love rice but want a zero point option, try this 0 Point Cauliflower Rice from Beth Celestin.
Laa Loosh has a nice 0 Point Low-Calorie Thai Cucumber Salad that would be perfect for a quick lunch.
Hungry Girl has a recipe for Bake-Tastic Butternut Squash Fries that also have 0 points.
Make these 0 Point Vegetable Potstickers from KitchMe for a nice side dish.
Make this Zero Points Strawberry Banana Slushy from Recipe Solution for a great treat.
These Arizona Burrito Bowls from The Tinkering Spinster are a good idea for lunches.
Yogurt Fluff from Pointed Kitchen looks like a delicious dessert.
Make these Air Fryer Cajun Zucchini Chips from Life is Sweeter By Design for a crunchy snack.
Check out these Zero Point Muffin Tin Eggs from You Brew My Tea for a great easy breakfast.
Zero Point Banana Souffle from The Holy Mess is a dessert that's sure to please.
Make lunchtime easy with these Zero Point Protein, Fruit and Veggie Bistro Boxes from No. 2 Pencil.
More Weight Watchers Recipes:
15 Slow Cooker Weight Watchers Recipes
25 Weight Watchers Appetizers Recipes
20 Weight Watchers Dinner Recipes
20 Weight Watchers Lunch Recipes
20 Weight Watchers Dessert Recipes
20 Weight Watchers Breakfast Recipes