Use these instructions to start making homemade baby food using fresh fruits.
Fruit and vegetables are among the first puréed foods offered to babies. While many pediatricians will remind you that breast milk or formula is still their main source of nutrition until the age of 1, there are many yummy fruits and veggies that you can easily puree for your little one once you have established they are ready. Even if they aren't the main source of nutrition, puréed baby foods allow your child to practice their swallowing and chewing skills. With the blink of an eye, they'll also acquire other skills such as feeding themselves with a spoon. These skills will prepare them for the transition to solids after their first year.
If you've followed any of the previous homemade baby food articles on this site, you know that we've already taken a look at how to easily prepare vegetables for baby food. Now let's dive into the sweet and tangy flavors of fruit! Fruit not only provides naturally sweet flavors your child will enjoy, but they carry other benefits to your young child. For example, if they ever have problems with constipation, purée high fiber prunes, apples, apricots, or even avocado.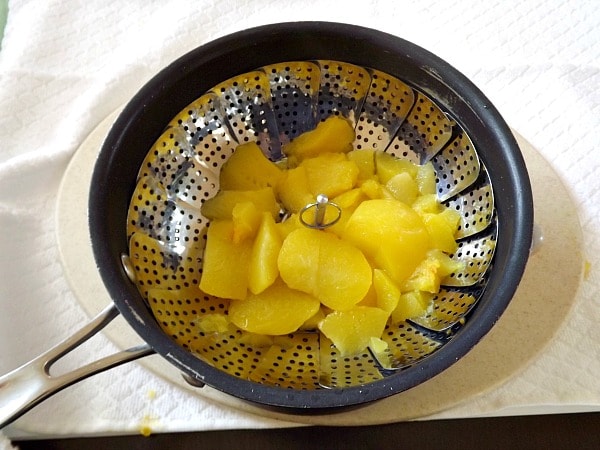 With most fruit it is recommended that you peel and cook them first, either by baking or boiling. This not only makes it easier for you to purée them, but the cooking process makes them a little easier to digest for baby. The only exception to this is avocados and bananas. I've always found these two to be a quick, especially easy option when I'm low on other fruit because I can peel and mash them in a snap!
Remember to space out the time between introducing different fruit, as is the case with any new foods. This will make it much easier to pinpoint the culprit in the even that your child has any type of reaction. There are some fruits and berries that are associated with higher risks of allergies, and pediatricians may recommend parents delay serving these particular ones in their child's first year. Consult with your doctor to see what their current recommendations are on delaying particular fruits.
Homemade Peach Purée Baby Food
Homemade Peach Puree Baby Food
Ingredients
Peaches (6 peaches makes enough purée to fill 1 standard ice tray)
Hand held peeler
Food processor or blender
Small to medium pot with steamer basket
Water
Directions
Begin by peeling your peaches and cut them into smaller pieces.
Fill your pot with water just below the steamer basket, add the peaches and lid.
Allow the water to come to a low boil and allow the peaches to steam for 15 minutes. The larger the pieces and the more firm the peaches, the more time they will require to cook.
Remove once you can easily stab the peaches with a fork.
Place the peaches in the blender and purée.
Immediately transfer the purée to storage containers and refrigerate or freeze. If you would like to serve a portion right away, just be sure they have completely cooled.
Homemade Baby Food Recipes:
How to Get Started Making Homemade Baby Food
How to Make Homemade Baby Food with Meats
How to Make Homemade Baby Food: Vegetables
How to Make Baby Food with Grains
How to Transition Toddlers to Solid Food
More Natural Baby Articles:
How to Make Reusable Cloth Baby Wipes
How to Save Money Using Cloth Diapers
Cloth Diapering: What You Need to Know to Get Started
Emily is a mother of two, Army wife, avid cook, and recently discovered running to help stay fit. She enjoys the outdoors and sharing her knowledge about greener living with others, including cloth diapering and up-cycling everyday objects into something fresh.