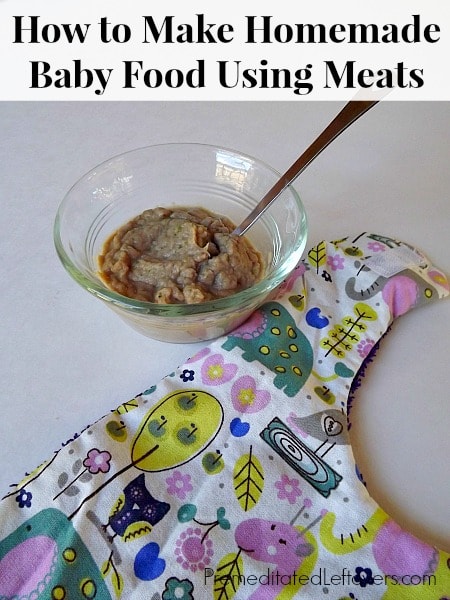 If your little one is completely hooked on the new flavors of fruits and vegetables, they may be ready to move on to something new. Usually between 7 and 10 months of age, babies have mastered their initial fruit and vegetable purées and are ready to try a variety of meats. Meat such as poultry, beef, or ham provide yet another new flavor and texture to your child's developing palate.
If you're not sold on the idea just yet, think of some of your favorite meals. Your child's meat purées can be prepared alone or with the same popular combinations you enjoy yourself, minus the salt and seasonings. Just think – the possibilities are endless! Ham and potatoes, turkey and green beans, chicken and apples, are just a few you can easily combine together to create a variety of delicious flavors for your child. Don't get me wrong, these purées won't look like something prepared by Emeril Lagasse. Your little one won't care about that half as much as the flavor and how quickly you can reach the spoon to their mouths. Meat is a great source of iron and protein, so give them a try and see what combinations your child may enjoy.
How to Make Homemade Baby Food with Meats
If you're wondering about the cost of preparing meat for your baby, there's no need to stress. Baby purées don't require large quantities of any one food unless you plan on making several large batches at a time. Your child may not take to meats like they do to fruits and vegetables. Meats tend to be a little grainy or dry compared to other puréed foods. Because of this, you may want to start by making smaller batches. Another way to cost effectively prepare meat purées is to set aside a smaller portion of the poultry, beef, or ham you bought to serve the rest of your family for a particular dinner. Just prepare this portion separately and purée. To get a better idea of how to do this, check out the recipe below.
This recipe shows your how to whip up a beef purée that mimics the flavors of a pot roast. I find this convenient to make when I'm planning on a slow cooker beef stroganoff or pot roast for my family. I can conveniently slow cook the roast with homemade beef broth and chopped onion until tender, and then remove my desired portion for the puree. I'm able to build on the remaining roast for my other recipe, and knock out a meal for my whole family. Tiny tots included!

Homemade Beef Roast Purée with Broccoli and Cauliflower
Ingredients
2 cups cooked beef roast, chopped. (I use a mock tender roast.)
½ cup broccoli
½ cup cauliflower
Reserved water from vegetable steaming
Directions
Fill the pot with water so that it reaches just under the steamer basket, but doesn't touching it. Bring the water to a low boil.
Rinse the broccoli and cauliflower and add it to the steamer basket.
Cover and steam for 10 minutes or until the vegetables are tender with a fork.
Remove and add to a food processor with the beef roast.
Begin to puree, adding a little of the reserved water from steaming the vegetables. Continue to add small portions of the water until the desired consistency is achieved.
Notes
Items Needed: Small to medium pot with steamer basket and a
food processor or blender.

Makes 2 ½ cups of puree, or 5 3.5 oz. servings.
Homemade Baby Food Recipes:
How to Make Baby Food Using Fruits
How to Make Baby Food Using Vegetables
How to Get Started Making Homemade Baby Food
More Natural Baby Articles:
How to Make Reusable Cloth Baby Wipes
How to Save Money Using Cloth Diapers
Cloth Diapering: What You Need to Know to Get Started
Emily is a mother of two, Army wife, avid cook, and recently discovered running to help stay fit. She enjoys the outdoors and sharing her knowledge about greener living with others, including cloth diapering and up-cycling everyday objects into something fresh.