Emily is sharing her recipe for pumpkin spice lactation cookies that include with whole oats, brewer's yeast, and flax meal to provide your body needed nutrients to support lactation.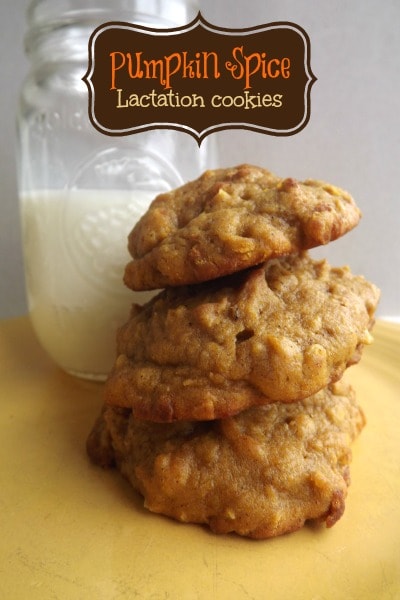 Maintaining an adequate milk supply can be a difficult task for some breastfeeding mothers. I agonized over this with my first child when the time came for me to return to work. Pumping just a few ounces at a time was not easy, and the daycare needed two or three full bottles every day. I'd suck down tons of water and bought tea with fenugreek in hopes of boosting my supply. While this helped, the bitter maple-like taste of the tea was not pleasant.
I wish someone would have told me back then that there are alternatives. Tastier alternatives that are easy to make right in your own kitchen! Whole oats, brewer's yeast, and flax meal also provide your body with much needed vitamins and minerals necessary for supporting lactation. The Brewer's Yeast
and flax meal can also be disguised easily in foods such as baked goods.
Instead of forcing down that fenugreek tea, try indulging yourself a little with this recipe for Pumpkin Spice Lactation Cookies. They include some of the traditional ingredients you would find in a pumpkin pie and that powerhouse of whole oats, Brewer's yeast, and flax meal. Want to experiment a little? You can even try adding in chopped nuts or white chocolate chips!
Pumpkin Spice Lactation Cookies Recipe
Ingredients:
2 cups all purpose flour
1 cup oats
1 ½ cups brown sugar
1 cup sugar
1 Tbsp. pumpkin pie spice
3 Tbsp. Brewer's Yeast
2 Tbsp. flax meal
1 tsp. baking soda
½ tsp. salt
1 cup butter, softened
1 egg
1 tsp. vanilla extract
1 15 oz. can pumpkin puree
Directions:
Preheat your oven to 350°.
Mix the dry in ingredients in a bowl.
Combine the butter, egg, vanilla, and pumpkin puree in a separate bowl.
Slowly mix the pumpkin mixture into the dry ingredients.
Scoop heaping tablespoon-sized portions of dough onto a cookie sheet. Leave about 1 ½ to 2 inches between each scoop.
Bake for 15 minutes. Baking times may vary.
Remove from the oven and allow to cool.
Pumpkin Spice Lactation Cookies
Ingredients
• 2 cups all purpose flour
• 1 cup oats
• 1 ½ cups brown sugar
• 1 cup sugar
• 1 Tbsp. pumpkin pie spice
• 3 Tbsp. brewer's yeast
• 2 Tbsp. flax meal
• 1 tsp. baking soda
• ½ tsp. salt
• 1 cup butter, softened
• 1 egg
• 1 tsp. vanilla extract
• 1 15 oz. can pumpkin puree
Directions
) Preheat your oven to 350°.
) Mix the dry in ingredients in a bowl.
) Combine the butter, egg, vanilla, and pumpkin puree in a separate bowl.
) Slowly mix the pumpkin mixture into the dry ingredients.
) Scoop heaping tablespoon-sized portions of dough onto a cookie sheet. Leave about 1 ½ to 2 inches between each scoop.
) Bake for 15 minutes. Baking times may vary.
) Remove from the oven and allow to cool
More Natural Baby Articles
Apple Cinnamon Lactation Cookies Recipe
How to Make Reusable Cloth Baby Wipes
How to Save Money Using Cloth Diapers