This broccoli slaw recipe is a variation of my Nutty Broccoli Salad Recipe. The broccoli slaw is made using the broccoli stems where the Broccoli Salad is made using the broccoli florets.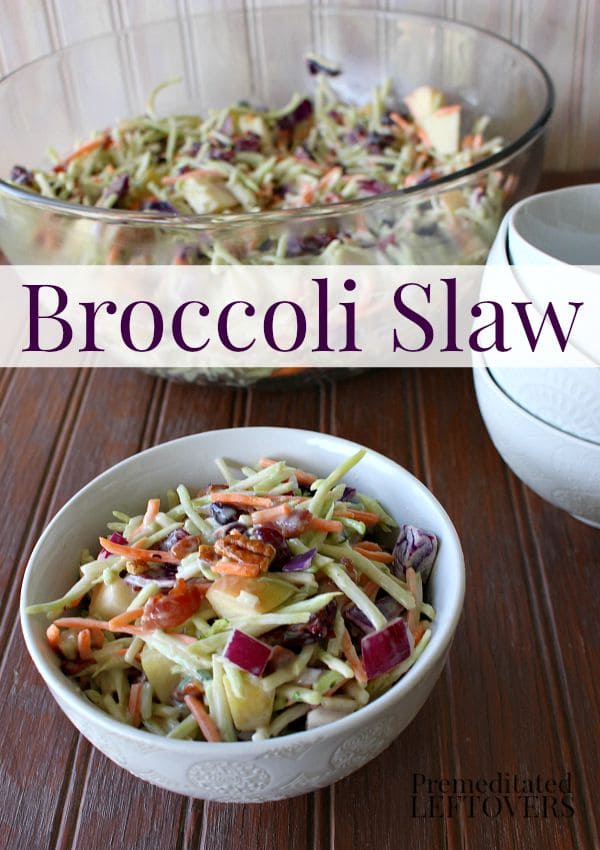 When my daughter was 2, my husband was preparing broccoli for her. He cut the florets off the top and put them on her plate. She looked at the florets, then at the broccoli stalk with a confused look on her face and said, "I like the stems too".
Broccoli stems are delicious! There is no reason, to discard the stem. If you are using a recipe that calls for the broccoli florets, save the stems and use a julienne peeler to cut the broccoli stems into matchstick thin slices. You can use the the julienned broccoli pieces in salads, soups, or a stir-fry.
This salad is very flexible, so feel free to improvise and use whatever you have on hand to create it. This broccoli slaw can easily be doubled when serving a large crowd.
You can make this broccoli slaw ahead of time and refrigerate it overnight. Just be sure to stir it well before you serve it because the dressing can collect at the bottom of the bowl while it is chilling.

Broccoli Slaw
Ingredients
Salad Ingredients
4 broccoli stems, peeled and julienned (approximately 3 cups)
1 cup shredded cabbage
½ cup matchstick carrot slices
2 sticks celery, thinly sliced
½ cup diced red onion
1 medium sweet apple, cut into bite size pieces
½ cup diced pecans, cashews, or almonds
¼ cup dried cranberries
4 - 6 pieces cooked bacon, crumbled
Dressing Ingredients
1 cup mayonnaise
¼ cup balsamic vinaigrette (use a gluten-free dressing to make this salad Gluten-Free.)
¼ cup sugar, honey, or agave
Directions
If you don't have cooked bacon, cook the bacon. The drain the fat and crumble the bacon into small pieces.
Place all of the salad ingredients in a large bowl.
Add the bacon to the salad. Mix well.
Add all the dressing ingredients to a small bowl. Mix together until well blended.
Pour the dressing over the salad. Stir well to coat the salad with the dressing.
Refrigerate the broccoli slaw for at least 2 hours.
Serve cold.
More Salad Recipes
Southwest Shrimp Salad with Honey Lime Dressing