We love making homemade ice-cream, well actually I should say the kids and I love it when my husband makes homemade ice-cream – the kids and I rarely make it, but we love it when he does! While my husband makes the ice-cream, I make the toppings. Sometimes I make Homemade Caramel Sauce (or dairy-free caramel sauce), but I usually make Homemade Hot Fudge Sauce. When I really feel like spoiling my kids, I make caramel sauce, hot fudge sauce and Homemade Vanilla Whipped Cream and create a make-your-own ice-cream sundae buffet.
In less time than it takes to drive to the store and back, I can make this quick and easy hot fudge sauce recipe from scratch. Making it from scratch also allows me complete control over the ingredients, ensuring that my kids are not getting a side of chemicals and High Fructose Corn Syrup with their dessert.

Easy Homemade Fudge Sauce
Ingredients
½ cup semi-sweet chocolate chips
2 tablespoons butter
⅓ cup sugar
⅓ cup heavy whipping cream or evaporated milk
2 tablespoons water
pinch of salt
Directions
In a medium sauce pan, melt butter and chocolate chips.
Add cream, sugar, water and salt and bring to a boil.
Reduce heat and boil over a low flame for 9 minutes stirring occasionally.
Remove from heat and let it sit for a couple of minutes. Serve while still warm over ice-cream.
Store unused fudge sauce in the refrigerator. Reheat the sauce in the microwave on high power for 30 – 50 seconds.
Note: Once I made a double batch before I went to visit my dad and when I returned home the 1/2 cup of leftover fudge sauce was a little dry and gritty. I heated it for 30 seconds, then stirred in 2 teaspoons of milk, and heated it for another 20 seconds (until it just started to boil). I stirred it one more time and it was lovely again.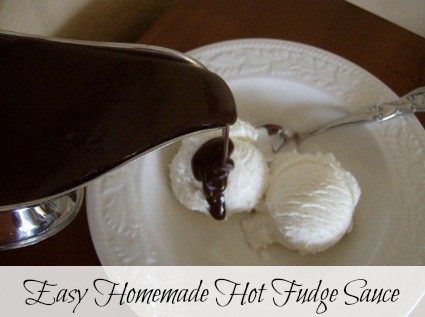 More Frozen Dessert Recipes
25 Ice-Cream, Sorbet, and Frozen Yogurt Recipes
Homemade Raspberry Popsicle Recipe
Easy Dairy-Free Frozen Yogurt Recipe