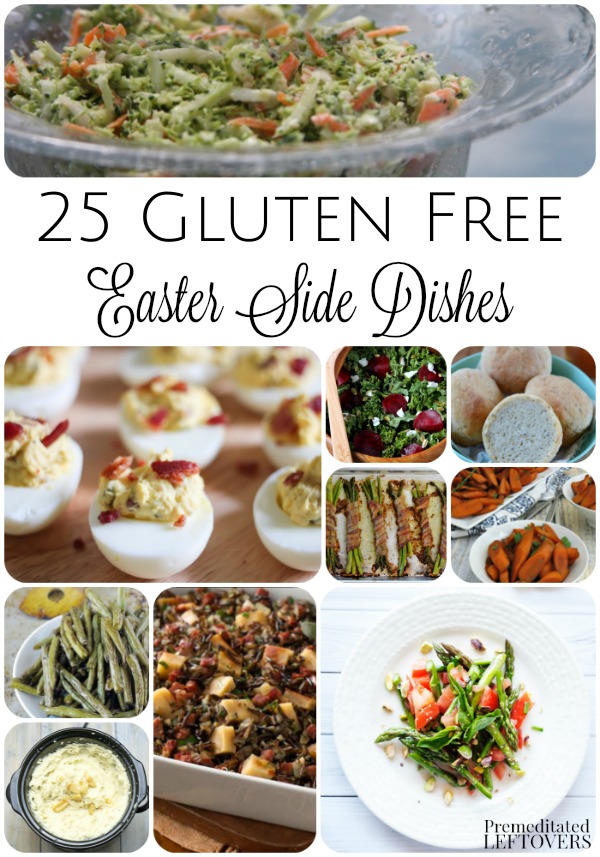 It's time to think about what gluten-free Easter side dishes you want on your menu plan. One great thing about side dishes is that most are naturally gluten-free. Since most vegetables can be prepared without wheat involved, it means you can have a lot of your favorite sides no matter what your food allergy may be. Here are 25 Gluten-Free Easter Side Dishes that will want to add to your menu this year.
25 Gluten-Free Easter Side Dishes
Roasted Sweet Potatoes from You Brew My Tea
Balsamic Maple Glazed Carrots from Midwest Modern Momma
Roasted Brussels Sprouts & Quinoa Salad from Fit Foodie Finds
Gluten-Free Jalapeno Popovers from Premeditated Leftovers
Gluten-Free Artichoke Mac & Cheese from Sassy Southern Yankee
Gluten-Free Bread Rolls from Natural Fit Foodie
Bacon Sweet Potato Casserole with Pineapple from Midwest Modern Momma
Deviled Eggs with Bacon & Jalapenos from 5 Minutes For Mom
Gluten-Free Italian Pasta Salad from Natural Chow
The Best Deviled Eggs (Classic) from Party Of Four
Kale Cauliflower Puree from Recipe Runner
Balsamic Oven Roasted Green Beans from The Rising Spoon
Crockpot Garlic Mashed Potatoes from Flour On My Face
Wild Rice and Chorizo Gluten-Free Stuffing from Premeditated Leftovers
Traditional Gluten-Free Potato Salad from Gluten Free Recipe Box
Beet & Goat Cheese Kale Salad from Real The Kitchen & Beyond
Creamy Broccoli Slaw from It's A Keeper
Mini Quinoa Veggie Bites from Busy At Home
Light & Fluffy Mashed Potatoes from The Real Thing with the Coake Family
Pepper Jack Mashed Potatoes from Moms Confession
Bacon Wrapped Asparagus from Flour On My Face
Tomato Asparagus Salad from A Simple Pantry
Bacon, Mushroom & Spinach Quinoa from Sassy Southern Yankee
Red Skinned Potato Salad from Iowa Girl Eats
Broccoli Quinoa Casserole from Sublime Reflection
I love finding great gluten-free Easter side dishes that remind me of childhood meals.  Some of my favorites include the classic deviled eggs, potato salad, and of course, the creamy broccoli slaw. We even have a few of our favorite bread options on this list for that person who just needs a hot roll or corn muffin with their Easter dinner.  Remember to use bright fresh flavors and let the vegetables shine in these delicious gluten-free Easter side dishes.
More Gluten-Free Easter Recipes:
Gluten-Free Recipes for Easter Dinner
20 Gluten-Free Easter Dessert Recipes
20 Gluten-Free Appetizer Recipes