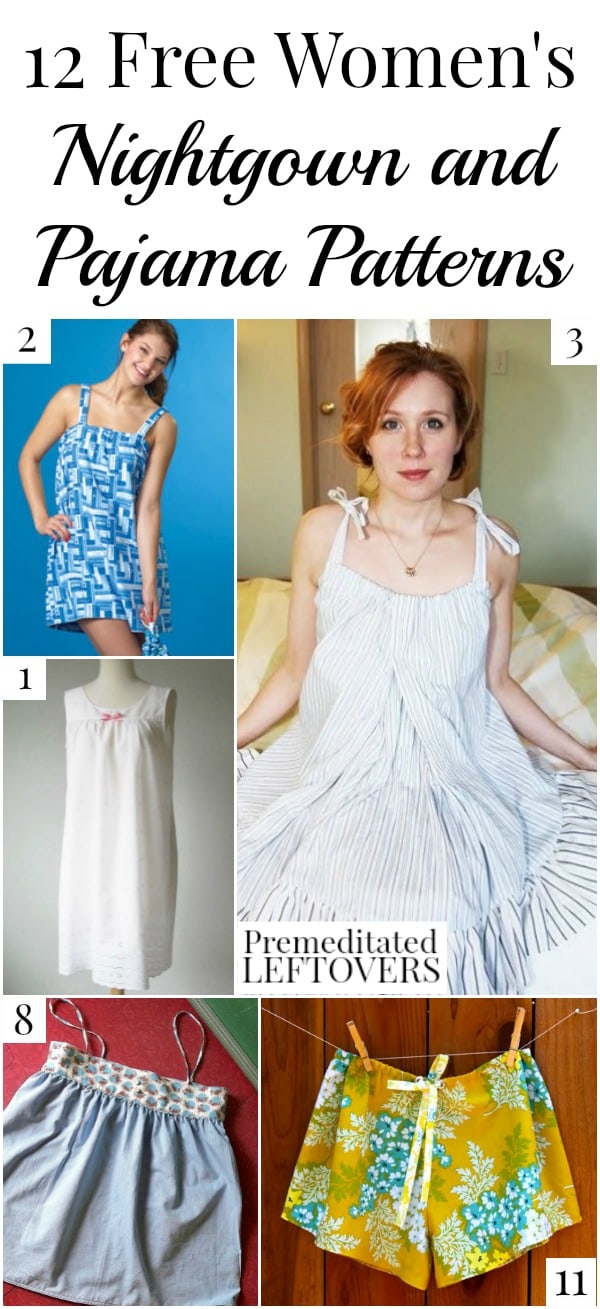 There is nothing more comfortable than a nightgown. No matter what time of year, you can sleep in comfort. I remember wearing my father's old t-shirts as nightgowns as a child and just wishing I could wear them all day. One of my favorite nightgowns now is basically the same idea. While some of the nightgowns below can be either sundresses or nighties, I tried to pick patterns that looked most like something you would find total comfort in when hitting the pillow. If you are looking for more nightgowns to add to your wardrobe, here are 10 free nightgown patterns for your sewing enjoyment.
10 Free Women's Nightgown Patterns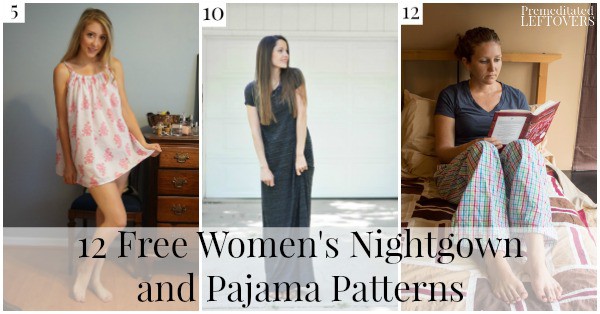 1. Do you have a dress pattern that you love and fits well? This Craftsy post on How to Make a Custom Nightgown is a tutorial for making a nightgown from a dress pattern.
2. Sew it All has a super cute Slumber Party Nightgown that looks simple enough for even the most beginning seamstress to make. It even comes with its own drawstring pouch!
3. I love a good upcycling project and this Cute Babydoll Dress from a Man's T-shirt by Cut Out and Keep's Carlyjcais is perfect. While it says it is a dress, I think it looks like a perfect nightie.
4. This Gathered Elastic Thread Nightgown by Debbie Colgrove of About.com is awesome for beginners as the tutorial is pretty in depth.
5. For a little bit of a playful pattern, make this adorable Do-It-Yourself 60's Nightgown from Allie Jackon. This cute, airy nightgown does not even require a pattern – just follow her tutorial to make your own.
6. I am a big fan of vintage patterns and this Magic Nightgown from Sewing Vintage is so elegant looking!
7. Carrying on the vintage theme, this one from Elizabethan Costume dates back even further. It is an Elizabethan Chemise and it reminds me of the kind that the girls wore in "Little Women". It looks amazingly comfortable and perfect for cooler weather.
8. I like any pattern with the word "Easy" of "Simple" in it. This Super Simple Nightie Tutorial from Sew Mama Sew is great for those of us that just want something very basic.
9. This Island Flouncer from Weekend Designer is also called a summer dress, but I think it would work well as a summer nightgown as well. It is pretty, ruffled and feminine while remaining modest.
10. While it is not technically a nightgown pattern, this Super Easy T-Shirt Maxi Dress Tutorial would make a comfortable and pretty nightgown too. You could use a long sleeve t-shirt to make a warmer version for winter.
2 Free Women's Pajama Patterns
As a bonus, here are two pajama patterns for those who prefer to sleep in short or pants.
11. These Sleep Shorts from Pretty Prudent use a pair of your shorts as a pattern, so you know they will fit.
12. Comfy pajama pants are the best, and Life Sew Savory has a great Women's PJ/Lounge Pant pattern that comes in sizes XXS – XXL.
Do you have a favorite pattern here?
More Free Sewing Patterns