Maggie of Family Frugal Fun is sharing 2o frugal ways you can use Almond oil. Most of her uses are for Sweet almond Oil, but she says you can substitute Bitter Almond Oil if you wish. Her uses for Almond oil include beauty treatments and home remedies.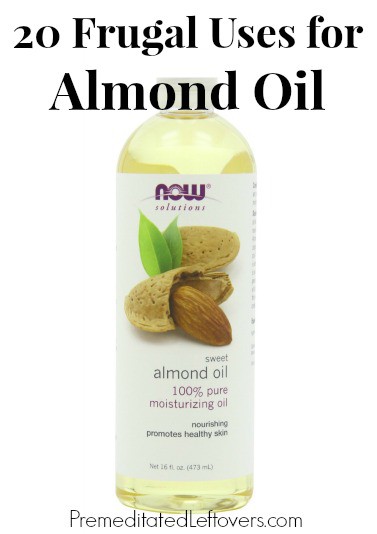 Did you know that nearly half of the composition of almonds is oil? Almond oil is created by pressing almonds. Almond oil uses are practically endless, thanks to its' non-greasy consistency. Almond oil has many vitamin and mineral benefits as well. There are two types of almond oils – bitter and sweet almond oil. The 20 Almond oil uses below primarily focus on the sweet variety, however bitter almond oil can certainly be substituted if you wish.
20 Frugal Uses for Almond Oil
Razor Cuts: Use a few drops on your face before shaving to prevent cuts.
Prevent Rusting: Also, dip your razor blade in almond oil – this prevents it from rusting.
Tame Hair: A dime-sized amount in the palm of your hand rubbed through hair will tame flyaway curls.
Split End Treatment: Massage almond oil on split ends.
Laxative: 2 Tablespoons a day administered orally act as a great natural laxative.
Under Eye Treatment: A few drops on the skin gently massaged in the area under your eyes helps to soften and tone your face.
Face Moisturizer: Almond oil works well to nourish the skin without clogging pores.
UV Protection: The high amount of Vitamin E protects skin from harmful UV rays.
Immunity Booster: When taken orally in small amounts, almond oil also boosts your immune system.
Blood Pressure: Add one teaspoon a day to your cooking; folic acid and potassium-rich almond oil helps regulate blood pressure.
Heart Health: The folic acid and potassium content are also excellent for heart disease prevention.
Brain health: Sweet almond oil is considered "brain food" and is thought to aid in concentration.
Cooking: It makes a great substitute for olive oil, too – try it the next time you do stir fry at home for a wonderful flavor change that has lots of health benefits.
Massage Oil: Almond oil is also a good "base" for mixing with other oils. Add some peppermint oil and use it as an invigorating massage lubricant that also soothes achy muscles.
Aromatherapy: It works well as a base with most any aromatherapy or essential oil for burning. Try lavender to relax, or peppermint or spearmint to get you moving.
Body Scrub: Mix almond oil and sea salt together for a terrific all-natural salt scrub. Who needs pricy spa treatments?
Wood conditioner: Did you know almond oil Is an excellent wood conditioner, and has been used for many years on musical instruments such as the oboe and clarinet?
Moisturizer: It's a wonderful natural moisturizer for dry skin, thanks to the many anti-inflammatory vitamins in almond oil. You can use it topically or orally and achieve good results.
Use in Soap: If you make your own soap, add a 5% concentration of sweet almond oil and your skin will thank you for it!
Dandruff treatment: If you have dandruff or a very dry and flaky scalp, massage a few drops of sweet almond oil into your scalp for a few minutes, then let it sit for 45 minutes to overnight before rinsing with your regular shampoo.
So whether it is used topically, in food, or mixed with other things, almond oil can help your body in all sorts of ways.
More Thrifty Household Hacks:
Maggie is a stay at home mom. She runs Family Frugal Fun with her best friend Beth. She's addicted to savings, s'mores and ice cream! You can also find them on Facebook.