Use this tutorial on how to make homemade air freshener spray to make your own custom-scented room spray. It is inexpensive and the scent in your home sets the mood and is one of the first impressions guests will take in when they step into your home.
Making your own homemade air freshener spray is well.."a breeze". We all love having homes that smell fresh, clean, and inviting, but if you are anything like me, you want to avoid layering your house in chemicals as much as you can. So can you have both? Absolutely!
Swapping out harsh chemicals for a few safer ingredients in your cleaning supplies makes a big difference to your health but can still give you the same results; in my opinion, the essential oils smell much better anyway! Febreeze is a great place to start making over your cleaners.
How to Make Homemade Air Freshener Spray
To make homemade air freshener spray combine equal parts water and vodka. Then add 20 – 30 drops of essential oils. You will find multiple combinations of essential oils below.
Air Freshener Spray Recipe
Ingredients:
Directions:
Add all ingredients to a spray bottle and shake well to combine.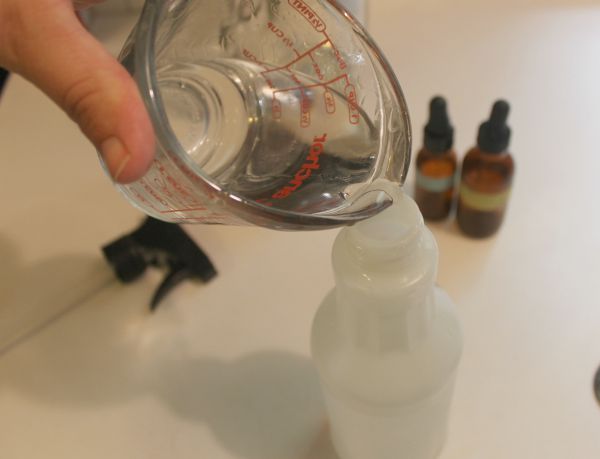 Directions for Use:
Spray into the air or mist over fabric from 12″- 18″ away.
If using citrus oils, opt for a glass bottle as it eats away at plastic.
Label your bottle using a pretty patterned duct tape or cover a paper printer label with clear packing tape.
Safe to spray on bedding, curtains, home and auto upholstery, rugs, and more.
My favorite essential oil scent combinations:
Rosemary and Wild Orange
Lavender and Lemongrass
Sandalwood and Clary Sage
If you want a manly scent try mixing one or more of these essential oils: sandalwood, cedarwood, and clove. My husband loves a light blend of cedarwood and clove for the car's upholstery.
I whipped up a quick printable for you to use as a label for your homemade Febreeze, cut just above the design top and bottom making it a great size to wrap around your bottle and cover with packing tape (my bottle is a washed-out Mrs. Meyers AP cleaner bottle and it fit perfectly). Just click on the image below to print yours.
Free Printable Label:
More Natural Cleaning Tips
How to Make Homemade Furniture Polish
DIY Rosemary and Lemon All-Purpose Scrub
7 Tips for Cleaning Your Home Naturally
5 Cleaning Products You Can Make Yourself