You can do many kid-friendly crafts and fun activities with apples or inspired by the fall apple harvest. Enjoy the season and choose a couple of these fall apple activities to do with your kids.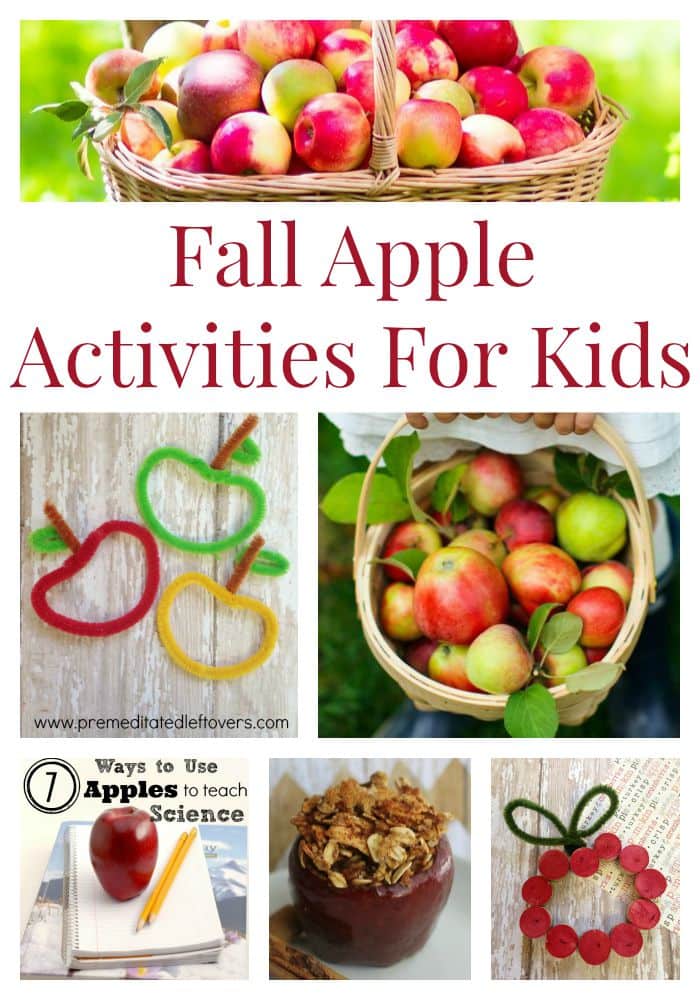 I know lots of people say it, but autumn really is one of my favorite times of the year. The harvest is in full force, leaves are starting to change and the sweaters I put away for summer are starting to make their appearance again. While everyone is focused on pumpkins, I like to focus on apples. I live in Washington state and they are kind of a big deal here. The apple is also a fun harvest fruit to incorporate into your child's play in the afternoon or weekend activities. Some of these apple activities are not only fun but also educational and will help reinforce the skills they learn during school.
Fall Apple Activities for Kids
You can do many crafts and activities with apples and here are some of my favorites to get you inspired! Ideas include apple arts and crafts projects, fall games, apple recipes, ways to make learning fun using apples, and family-friendly activities.
This Wine Cork Apple Craft makes a cute little home decor ornament re-purposing corks.
Cinnamon Oatmeal Baked Apples are one of my favorite ways to make my home smell just like fall and they are a delicious dessert kids love to help make.
Since they are completely in season, these Tips for Picking Apples are perfect if you are heading out to see where they grow for a great learning experience.
This Paper Plate Apple Craft for Kids is a fun way to spend a chilly fall afternoon for the littles.
Another fun activity for young ones includes this Apple Stamping Craft that is a great way to use real apples to create a lovely piece of art.
One of the best fall treats are candy apples. Make a slightly healthier version with these Granola Coated Caramel Apples.
You can make apples an educational opportunity with these 7 Ways to Teach Math Using Apples.
Make sure you also check out these 7 Way to Teach Science Using Apples if you are building a lesson plan this fall.
Don't have much time? This DIY Chenille Apple Craft for Kids is a fun activity you can do with very little time or effort and will inspire kids to see what other shapes they can make with pipe cleaners.
The crafts don't stop with these 5 Crafting Ideas Using Apples. Some of these are perfect for older kids, too.
Kids will love helping you make these Easy Mini Apple Rice Krispie Treats.
Enjoy some quiet apple-inspired fun with these Apple Coloring Pages from 1+1+1=1.
Play a fun indoor game of Apple Picking with Painter's Tape that helps refine gross-motor skills from Hands on as We Grow.
This Popsicle Stick Apple Core Craft from Glued to My Crafts is just the cutest!
Emma Owl has a great activity for kids to play with over and over. Check out this idea for Homemade Kid's Playdough in Apple Pie scent.
More Fall Activities for Kids
10 Fall Activities to Do with Kids
15 Fall Leaf Crafts for Children
5 Indoor Fall Themed Games for Kids