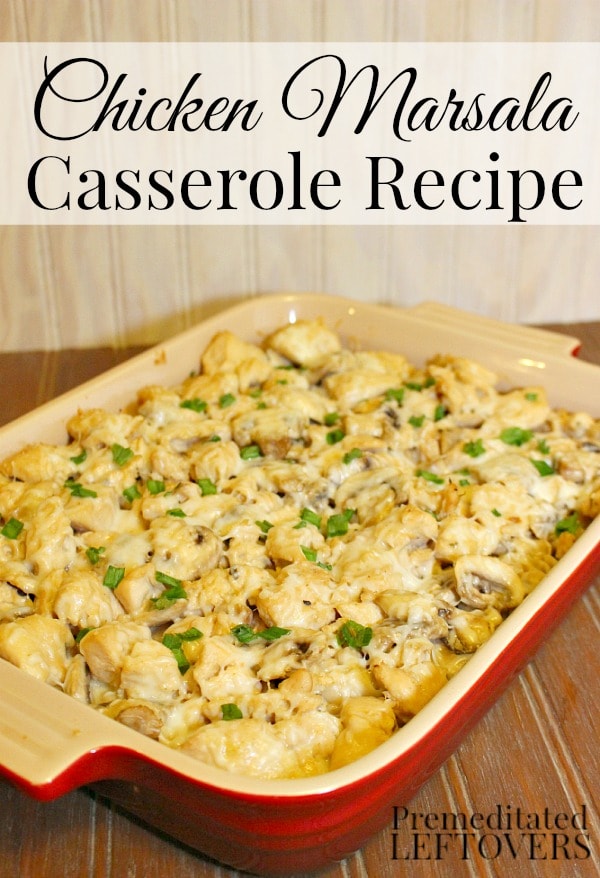 My daughter absolutely loves my Chicken Marsala Recipe. If I ask her what I should make for dinner she usually answers Chicken Marsala. And if there are any leftovers, she hoards them for her lunch.
One afternoon I discovered some leftover pasta in the fridge and my daughter suggested that I adapt my Chicken Marsala recipe and use the leftover pasta to make a Chicken Marsala Casserole. It was a brilliant (and delicious) suggestion! I have since made the recipe multiple times.
This recipe only calls for 8 ounces of pasta. Most bags of rotini pasta contain 16 ounces of pasta making this a really easy recipe to double. I can prep two casseroles, bake one, and put the other one in the freezer for an easy dinner on a busy night. If you choose to double the recipe to make one for the freezer, pull the frozen casserole out the morning of the day you wish to bake it and let it thaw in the refrigerator then bake as directed.
Marsala is a fairly inexpensive wine, but if you can't find it you can substitute white wine, dry sherry, broth or a combination of the three. I have even used 3/4 cup of Chardonnay and 1/4 cup of sparkling apple cider with good results.
Sp0on the pasta in to the casserole pan. Spread the chicken and mushrooms over the top of the pasta. Then sprinkle cheese and green onions over the chicken. If you have doubled the recipe, cover one of the casseroles with foil and freeze. Bake the other one at 350 degrees for 20 minutes.

Chicken Marsala Casserole
Ingredients
8 oz rotini pasta, cooked according to package directions
¼ cup cornstarch
1 teaspoon garlic powder
1 teaspoon onion powder
½ teaspoon salt
¼ teaspoon pepper
6 tablespoons cup butter, divided
1 lb. boneless skinless chicken breasts, cut into bite size pieces
1 cup dry Marsala wine, dry sherry, or chicken broth
8 oz. sliced mushrooms
½ cup heavy whipping cream
½ cup Parmesan or Mozzarella cheese
1 green onion, thinly sliced.
Directions
Cook pasta according to package directions.
Preheat oven to 350 degrees.
Combine corn starch, garlic powder, onion powder, salt and pepper in large resealable plastic food bag.
Melt ¼ cup butter in pie pan or shallow bowl.
Dip chicken into melted butter; place chicken tenders into bag or the cornstarch mixture. Seal bag tightly; shake to coat chicken.
Melt 2 tablespoons butter in large skillet until sizzling; add chicken. Cook over medium-high heat, turning once, for 6-8 minutes or until chicken is browned.
Add wine, whipping cream, and mushrooms. Continue cooking 4-6 minutes or until chicken is no longer pink and sauce is slightly thickened.
Spoon pasta into a casserole dish.
Place the chicken and mushrooms on top of the pasta.
Sprinkle cheese and green onion slices over the chicken and mushrooms.
Bake at 350 degrees for 20 minutes.
Notes
Use brown rice rotini pasta to make this casserole gluten-free.
More Chicken Marsala Recipes
Chicken Marsala Crescent Ring Recipe
Chicken Marsala Pizza (p.16 Prep-Ahead Meals from Scratch)
Easiest Chicken Marsala Recipe EVER
More Easy Casserole Recipes
Buffalo Ranch Chicken Casserole
Mushroom and Black Bean Enchilada Casserole