Learn how to freeze strawberries and enjoy them in these 15 strawberry recipes.
I always get super excited when strawberry season starts. I am a huge fan of them and it practically kills me to have to take them off my shopping list during the off-season because of the high prices. Fortunately, strawberries are easy to freeze, so when you find a good deal on them, make sure to stock up and save them for another time. Frozen strawberries work well in a number of recipes and are my go-to for smoothies! You can also make some of these strawberry recipes to use them up! Here are my tips on how to freeze strawberries.
How to Freeze Strawberries
If you want to freeze strawberries, wash them and cut off the stems. This will make them easy to use in smoothies as well as other recipes. You can 'flash freeze' them by placing them in a single layer on a cookie sheet and sticking them in a freezer for about 4-6 hours. When they are solid, divide them into small portions and store in separate freezer-safe containers or bags, as they tend to easily stick together. I like to portion them out for 1 smoothie servings!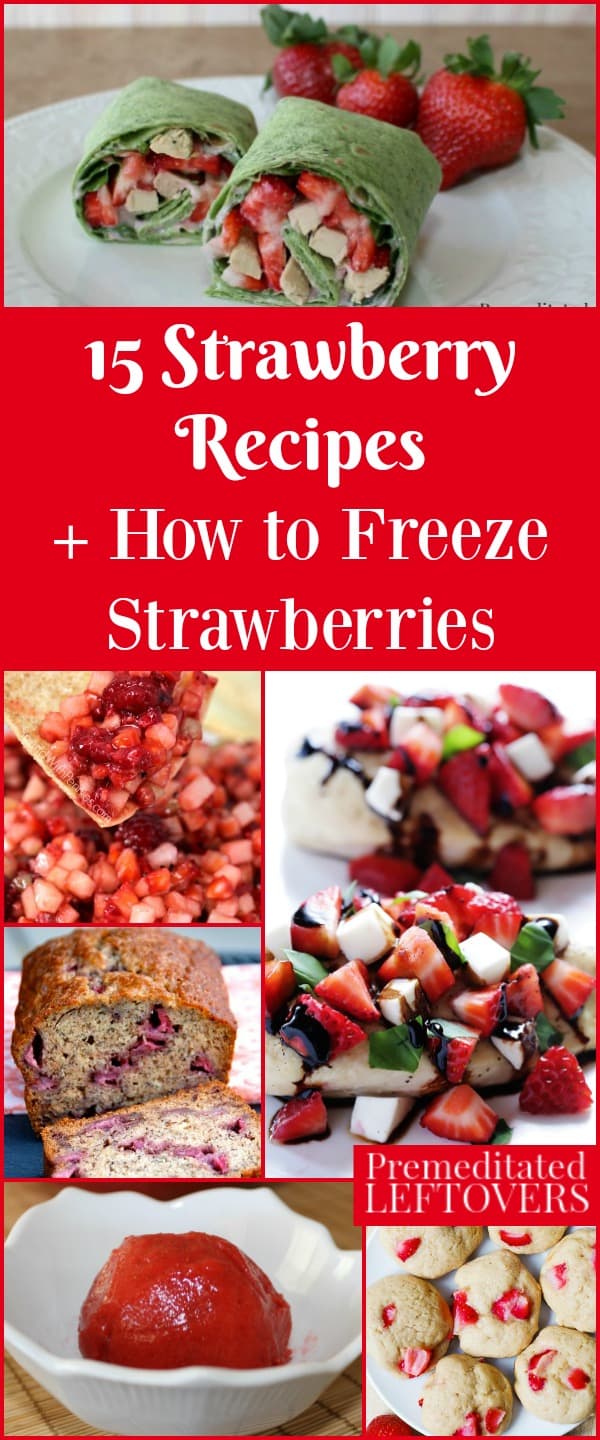 15 Strawberry Recipes
This Strawberry Banana Bread from Flying on Jess Fuel is perfect for my other favorite thing I always have in my freezer-bananas! I bet it is super moist and very good, like a smoothie in bread form.
Have you ever made freezer jam? Here is a super simple recipe for Strawberry Freezer Jam from Premeditated Leftovers that just about anyone can do! This is a great way to use up lots of strawberries in one recipe. You can even store it in the freezer for up to one year!
For something a little different, try this Strawberry Balsamic Chicken from Gimme Some Oven. It looks really interesting if you are adventurous!
If you are a fan of overnight oatmeal, you will love this Strawberry Overnight Oatmeal from Premeditated Leftovers. It includes a basic strawberry overnight oatmeal recipe with two flavor variations: strawberry rhubarb and strawberry sundae.
I am big on strawberries being used in smoothies and this Fruit and Oat Smoothie from Where the Wild Things Are is right up my alley. Breakfast to go!
If you are dairy-free, vegan, or just a strawberry lover, you need to try this epic Homemade Strawberry Sorbet that Alea shared on $5 Dinners. I think it is better than strawberry ice cream!
For another breakfast boost, try these Fresh Strawberry Scones from Popsicle Blog. These look heavenly!
These Strawberry Spinach Eggs Puffs from Premeditated Leftovers are a delicious alternative to muffins with a lot more protein and fewer carbs!
For a tasty snack or fun dessert, try making this Fruit Salsa with Cinnamon Crisps by Spend With Pennies. This looks absolutely amazing and perfect for a party.
I love mason jar desserts like this Mason Jar Strawberry Crisp Recipe from Premeditated Leftovers because you can bake, freeze, store, and serve them in the same container!
Make these sweet Strawberry Hand Pies from Not Quite Nigella for a great dessert to take with you. These would be perfect to freeze as well.
For a main dish featuring strawberries, try this Strawberry Spinach Salad with Raspberry Vinigrette from Premeditated Leftovers.
I absolutely love this idea for preserving strawberries in season. The Cupcake Project shows you How to Make Fruit Powder that you can use to flavor baked goods like buttercream icing! Genius!
Cream cheese goes with strawberries like peas go with carrots. Try making these Strawberry and Cream Cheese Cookies from Julia's Album and enjoy it in a new way.
Another great use for lots of strawberries on hand is fruit leather. Try this Strawberry Fruit Leather recipe from Baked by Rachel.
These Strawberry Spinach and Chicken Wraps from Premeditated Leftovers are a great meal to make ahead and take on the go.
So many excellent strawberry recipes to choose from!
More Seasonal Produce Recipes:
10 Amazing Swiss Chard Recipes